Home > Sports > News > Reuters > Report


Decamping to the desert?

Alan Baldwin | February 05, 2004 19:48 IST



Eddie Jordan has never lacked imagination but even he struggles with the idea that one day his Formula One team could leave rainy Britain and set up shop in the Middle East or China.

"I think that sense will prevail. I can't possibly ever get my head around thinking that I would have a Formula One team in my name somewhere other than at Silverstone. It just doesn't ring true to me," said the Irish boss.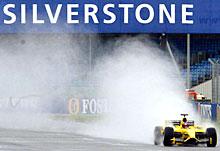 "Maybe Mars might be the other alternative."
The suggestion was raised this week as Formula One painted a doomsday scenario of teams decamping to countries whose laws are more congenial and where tobacco advertising is still tolerated.
The teams have talked about boycotting races unless they secure exemption from new European arrest warrants, carrying the risk of incarceration in the event of a fatal accident. Some also fear moves to limit the working week.
BAR boss David Richards said on Sunday that his team could be driven out of Britain by legislation that could lead to criminal prosecution if they race anywhere in the world with cigarette branding.
International Automobile Federation (FIA) president Max Mosley even suggested that teams might turn their backs on Europe to avoid being strangled by legislation.
IMMENSE UPHEAVAL
But hold on a minute. Would Ferrari, beloved of all Italians, really think the unthinkable and relocate to a new factory in Dubai or Bahrain?
Could Frank Williams, quintessentially English, go foreign?
Would McLaren, about to move into a Norman Foster-designed technology centre after investing tens of millions in a breathtaking facility that also houses a Mercedes sportscar assembly line, abandon Britain?
It might not be impossible but it is unlikely and the logistics would be immense, to say nothing of the upheaval for employees.
Some see the threats as just so much sabre rattling to put pressure on politicians and even Formula One supremo Bernie Ecclestone seems to be tiring of the subject.
"It is time to get on with Formula One," he told the Times this week. "There is nothing we can do about the law and we have got to make the best of what we have got."
But that is not to say there is no threat or that there have been no offers from abroad -- Jordan said he had already received three.
"Have we been asked to export the whole team somewhere? Yes, but only in the long term," said the Irishman.
Formula One is genuinely concerned at a time when the sport's focus is swinging towards developing nations.
While Europe is the spiritual home and Britain the industry heartland, the world is changing and there is no absolute reason why teams should forever stay in one part of the planet.
BERNIE BLAST
Ecclestone warned only this week that "there is no way Europe will be able to compete with China, Korea, India" in future.
China and Bahrain both debut this year, with India and South Korea jockeying for position. Austria has been culled and Imola is making a final farewell.
By next season, there could be more races outside the EU than within it.
Silverstone, the British wartime airfield that hosted the first Formula One race in 1950, cannot be too confident after Ecclestone likened it to an old house with a leaky roof.
While Britain is in the driving seat at the moment, with the majority of the 10 teams based in the country and Ecclestone running the show while Mosley rules the FIA, that cannot go on forever.
Ecclestone is 73 and negotiating with banks and car manufacturers, none of them British, over Formula One's commercial future. Mosley, planning to stand for another five-year term at the end of 2005, is 63.
"It (Britain) may not be the political centre of gravity in Formula One for much longer but it will probably be the technical centre for a long time if the U.K. government pursues its plans to encourage a centre of excellence for the entire industry," said Mosley.
The fact is that Formula One has always gone through cycles, on and off the track, and now is no exception.
"When I came into Formula One, most people were on planes to Italy every week, trying to find sponsors there," said Jordan. "That's changed. Now most people are on planes to the Far East and the Middle East."
© Copyright 2005 Reuters Limited. All rights reserved. Republication or redistribution of Reuters content, including by framing or similar means, is expressly prohibited without the prior written consent of Reuters. Reuters shall not be liable for any errors or delays in the content, or for any actions taken in reliance thereon.