Home > Sports > Formula One > Reuters > Report


Schumacher looking for lucky seven

Gary Emmerson | August 27, 2004 00:30 IST



Michael Schumacher is hoping seven will be his lucky number at Sunday's Belgian Grand Prix.

The world champion can land a seventh world title if he secures his seventh win at the Spa-Francorchamps circuit in his team Ferrari's 700th Grand Prix.

Schumacher can complete his run to the title if he outscores team mate Rubens Barrichello by two points but he said on Thursday he is hoping to do it in style.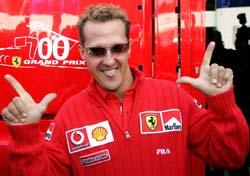 "It sounds like good numbers again," he said.
"Usually I have been pretty lucky when good numbers have come together so I hope I will be lucky again."
The German, chasing his 13th win from 14 races this season, admits to having a special affinity with the Spa circuit, where he made his debut in 1991 and claimed his maiden Grand Prix win the following year.
"Spa has always been special for things that have happened but much more so for the history of the circuit," he said. "It's one of those circuits which is left over from the past and has all this charisma.
"It is very unique and special and a big challenge."
Schumacher is virtually assured a fifth successive world drivers' crown, whether in Sunday's Grand Prix or at Monza in Italy in two weeks.
He is contracted to Ferrari until 2006 and said he has no intentions of calling a day on his illustrious career until he believes he is losing his stranglehold on the sport.
"I don't think I ever raced for what is left to do," Schumacher said when asked what he has left to race for. "I am just graced to enjoy the pleasure of competing and racing.
"I guess Formula One will exist longer, (but) as long as I am competitive and enjoy racing I will continue to do it.
"I just want to win (on Sunday). That is the main goal because it is not a secret that I am pretty close to winning the championship. I think I just want to do what I enjoy doing and that's winning races."
© Copyright 2005 Reuters Limited. All rights reserved. Republication or redistribution of Reuters content, including by framing or similar means, is expressly prohibited without the prior written consent of Reuters. Reuters shall not be liable for any errors or delays in the content, or for any actions taken in reliance thereon.

Formula One: The Complete Coverage