Home > Sports > Formula One > Reuters > Report


Schumi ready to continue title romp

August 10, 2004 11:58 IST

World champion Michael Schumacher has recovered from flu and is itching to chalk up a record 12th victory of the season at this weekend's Hungarian Grand Prix.

The dominant Ferrari driver was hampered by illness at his home race in Germany but the six-times world champion says he is refreshed after the three-week break in the race calendar.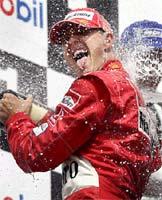 "I don't see why in Hungary we shouldn't fight for first place," said Schumacher.
"In my opinion, Renault, BAR-Honda and McLaren will do well but our car is good and I will be going all out for victory.
"You should not interpret the word 'pause' that is associated with this period of the season as meaning that nothing gets done.
"It's important to train hard for (this race) and I have trained a lot. I started a week later as I had to recover from the flu that had bugged me at Hockenheim."
Schumacher has been rafting and rock climbing during the break from racing, but he said the break will not deflect him from his romp towards a seventh title.
"I am pleased that it is finally time to get behind the wheel again," he added. "I am a sporty type but right now I want to do nothing other than race.
"I can't wait for Friday (practice) when I can drive out of the pit-lane at last."
Ferrari can clinch a sixth consecutive world championship in Hungary if he and team mate Rubens Barrichello can score nine points more than their opposite numbers at Renault.
But that could be a difficult challenge as the French team are strong on the twisty Hungaroring track and their Spanish driver Fernando Alonso won there last year.
The break, which also includes a ban on testing, has given Schumacher's rivals little chance to produce further developments to their cars although Williams will be introducing a revised aerodynamics package.
Schumacher said he is not worried what other teams do. "Naturally, I cannot know if they have done anything during the break but I think that there will not be any drastic changes.
"We cannot rule out the possibility that some teams may have made extreme modifications. I think the competition in general is always alive and our competitors will make things very difficult for us."
© Copyright 2005 Reuters Limited. All rights reserved. Republication or redistribution of Reuters content, including by framing or similar means, is expressly prohibited without the prior written consent of Reuters. Reuters shall not be liable for any errors or delays in the content, or for any actions taken in reliance thereon.

Formula One: The Complete Coverage