Home > Sports > News > Reuters > Report


Senna's death left indelible mark

Mario Andrada | April 23, 2004 16:23 IST



Just as Americans can remember what they were doing when they heard that President Kennedy had been shot, so any Brazilian old enough can recall the moment they found out Ayrton Senna had died.

"I was in Spain, in Valladolid. I had played a game in the morning," says former basketball international Oscar Schmidt.

"It was shocking to see Senna crashing at that speed with that force. I was paralysed.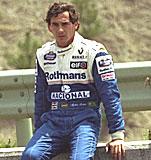 "The news of his death came later like the news of the death of a very close friend, a relative, it brought an amazing sadness."
Olympic gold medallist Robert Scheidt was windsurfing at Ponta das Canas, three hours from Sao Paulo, when he heard of the racing driver's death at Imola in Italy.
"It was an unforgettable day," said Scheidt.
Footballer Ronaldo, a 17-year-old, was watching the San Marino Grand Prix on television at a team training camp.
Senna's death 10 years ago paralysed Latin America's largest country.
The 34-year-old's body lay in state for 24 hours and up to one million people lined the streets of Sao Paulo to witness the funeral procession.
STATE FUNERAL
Brazilians said the event was matched only by the state funerals for former president Getulio Vargas, who committed suicide while in office in 1954, and Tancredo Neves, who died in 1985 days before he was due to take office as president.
| | |
| --- | --- |
| | Also Read |
| | |
As one television commentator said at the time: "The man has died, the myth has begun."

Ten years later, the former world champion is still remembered fondly in his home country. The Ayrton Senna Institute is involved in educational projects around the country and plans to invest $7.3 million this year.

It says that 1.2 million children from 3,375 schools and 463 cities will be directly involved in its activities this year. During the same period about 48,600 teachers will be trained.

His elder sister Viviane Senna has carried on the social project envisaged by the driver three months before he died.

"I quickly learned that just one project would not be enough," she said in a recent interview with O Globo.

"Just as important as providing care is developing a model of social technology that will allow us to care for more and more people."

UNIQUE RESPECT

Senna is treated with a respect enjoyed by no other Brazilian sporting hero. "Senna was an example in all aspects, on and off the race tracks," said Schmidt.

"He was an icon for reaching new limits, talent, quality, personality, character. He left emptiness. Senna was a complete idol, a guy that makes all Brazilians very proud."

"Brazilians have this irreverence towards their idols," said a feature in the news magazine Veja.

"Brazilians laughed about the emperor Pedro I's lovers, laughed again whenever (singer and composer) Tom Jobim got drunk or when Pele referred to himself in the third person.

"The only exception is Ayrton Senna. Brazilians worship Ayrton much the same way the Argentines do (king of tango) Carlos Gardel and Evita Peron."

(Additional reporting by Camila Moreira and Tatiano Ramil)

© Copyright 2005 Reuters Limited. All rights reserved. Republication or redistribution of Reuters content, including by framing or similar means, is expressly prohibited without the prior written consent of Reuters. Reuters shall not be liable for any errors or delays in the content, or for any actions taken in reliance thereon.