Home > Sports > News > Reuters > Report


Schumacher praises Bahrain circuit

Alan Baldwin | April 02, 2004 11:32 IST
Last Updated: April 02, 2004 11:40 IST



Formula One supremo Bernie Ecclestone heaped praise on Bahrain's new circuit on Thursday while suggesting a novel way of slowing down Michael Schumacher.

"It's really, really good," Ecclestone enthused as workers painted walls and put the final touches to the $150 million before Sunday's first Grand Prix in the Middle East.

"All this nonsense about sand on the circuit -- nobody that's been here has seen any sand," he continued.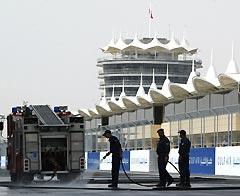 "I think what we will have to try to do now is get a big fan and put it on one of the turns so that if Michael gets in the lead, on goes the sand."
Schumacher, Ferrari's six times world champion who has won the first two races of the season, raised concerns earlier in the week about the risk of sand blowing on to the track and damaging engines.
The German played all that down as he paid a first visit to a circuit built in under two years on a desert site that formerly housed a camel farm.
"I don't see any problem honestly," he said. "The way they have done this circuit has been very professional. It looks very impressive.
"There needs to be a big storm for sand to be a problem but even in other countries having a big storm can mean some problems."
SPECIAL GLUE
Organisers have sprayed a special glue over the arid desert in the immediate vicinity of the circuit to limit the risk of sand being whipped up and blown onto the track.
| | |
| --- | --- |
| | Also Read |
| | |
"It's a big excitement to come to a new country," said Schumacher of what will be Formula One's first all-new circuit since Malaysia in 1999.

"To see the circuit and the way it is done, it looks spectacular at least with a good layout and facilities for all the mechanics to work in. It's really taken care of all the problems we have in other circuits.

"I think it's a great success."

Bahrain will be the most modern circuit on the calendar, at least until China makes its debut in September, and has raised the bar for other countries.

Ecclestone agreed that the gap between the developing world's circuits and some of those in the sport's European heartland -- such as Britain's Silverstone -- was growing wider.

"We shouldn't keep on talking about Silverstone, there are other circuits in the world that fall into that category," he said, before subjecting the British track to another dose of withering criticism.

Likening the circuit which hosted Formula One's first race in 1950 to an old house that its owners were proposing to renovate with a lick of paint and a change of light bulbs, he called for something more adventurous.

"I hope Silverstone will build something else," he said.

"They are never going to build something like this but they certainly could build something a lot better than is being proposed."

© Copyright 2005 Reuters Limited. All rights reserved. Republication or redistribution of Reuters content, including by framing or similar means, is expressly prohibited without the prior written consent of Reuters. Reuters shall not be liable for any errors or delays in the content, or for any actions taken in reliance thereon.