Home > Sports > News > Reuters > Report


Montoya needs historic win at Indy

Alan Baldwin | September 24, 2003 15:25 IST



Colombian Juan Pablo Montoya made his mark at Indianapolis three years ago and he could do with making history again at 'The Brickyard' on Sunday.

No driver has won both the Indy 500 race and the U.S. Formula One Grand Prix at Indianapolis, though America's 'Racing Capital of the World' hosted the latter event for the first time only in 2000.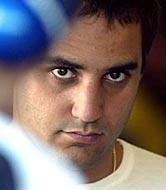 The swashbuckling Montoya, Indy 500 champion as a rookie on the great banked oval in 2000, and 1995 winner Jacques Villeneuve can both do it, although it would be a sensation if the Canadian came anywhere near to winning in his BAR.
The Williams driver, with the imperious swagger of a man who knows what he can do, is the one with a real chance and also a real need to succeed.
The 28-year-old Montoya, once described as Colombia's favourite export after coffee and cocaine, arrives in Indiana three points behind Ferrari's Michael Schumacher with the title in the balance.
Schumacher can clinch a record sixth championship with one race to spare if circumstances favour him -- namely if he wins and Montoya and McLaren's Kimi Raikkonen fail to score.
But Montoya, the first Colombian to win a grand prix and bidding to become South America's first champion since the late Brazilian Ayrton Senna in 1991, hopes to turn the tables and lead Schumacher to a final showdown in Japan.
A Williams one-two, with Michael's younger brother Ralf working against his sibling, would do the trick and help constructors' championship leaders Williams.
Losing points to Schumacher might not be the end of the championship but it would put the German in the driving seat at Suzuka, a favourite circuit where the Ferrari ace has won for the past three years.
"We have two main targets to focus on now," said Montoya, who flew home to Miami at the end of last week to acclimatise.
"The team needs to secure the constructors' championship and I have to close the gap to Michael in the drivers' standings and, if possible, get ahead of him.
"We need to keep the ball rolling and make the most out of this race because Suzuka is a circuit that really suits Michael's driving style.
"Our car can definitely do well at the Speedway as the power of the BMW engine suits the long straight so I am anticipating a close fight with our immediate rivals."
Montoya, a recognised name in America, can also count on strong local support to cheer him on in his duel with Schumacher.
"I have some great memories from The Brickyard," said Montoya, winner in Monaco and Germany this year.
"First and foremost, my Indy 500 victory back in 2000 was very important to my career, and then of course my years in the CART series thereafter particularly as my team at the time was based at Indianapolis.
"I consider Indy to be a home race for me so I feel I must give my supporters a good race and hopefully there will be many Colombians in the stands giving me support."
Sunday's race may be complicated by McLaren, with Raikkonen still challenging for the title, and by Renault being more competitive than at the last Italian Grand Prix.
But Montoya, whose aggressive overtaking manoeuvres on Schumacher have left the German in no doubt about his determination, can handle the pressure.
"He's much more mature than he was a year ago, much more mature now and knowledgeable about his car," said team boss Frank Williams at Monza.
"He will conduct himself as good as Michael or anyone else on the track, he's as quick as anybody and as sensible as anybody on the track."
That was not something that could be said of the shoulder-shrugging Colombian before this season, his macho bravado often masking painful mistakes.
At the end of last year, he received a letter from Williams technical director Patrick Head detailing one or two ways in which he could improve his performance.
The team also suggested that he should take a leaf out of Schumacher's book in his approach to the job.
After a shaky start to the year, losing the chance of a win in Australia when he spun while leading, Montoya has racked up eight podium finishes in a row up to Indianapolis -- twice as many as Schumacher and more than any other driver.
"It is very clear what he is able to do," departing BMW motorsport director Gerhard Berger said earlier this month.
"He is a bloody quick guy, he is very emotional -- that's an advantage and a disadvantage -- but it is the way he can overtake in places where you think nobody can.
"He is definitely a winner. He has won titles before. I really think he can win this title."
© Copyright 2005 Reuters Limited. All rights reserved. Republication or redistribution of Reuters content, including by framing or similar means, is expressly prohibited without the prior written consent of Reuters. Reuters shall not be liable for any errors or delays in the content, or for any actions taken in reliance thereon.