Home > Sports > News > Reuters > Report


Ralf Schumacher confident of new Williams contract

September 18, 2003 14:49 IST



Ralf Schumacher says he is close to agreeing to an extended contract with Williams but the deal is not done yet.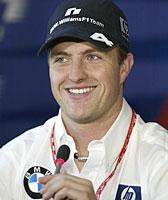 "I think you can assume that [the new contract will be signed]," the German Formula One driver told reporters at the IAA Frankfurt car show on Wednesday. "But it's not done yet. A few details still have to be sorted out."
Ralf's manager, Willi Weber, was earlier quoted as saying a new deal had been agreed.
"Everything is clear," Weber told the German weekly Sport Bild. "We will extend (Ralf's contract) to 2006."
Ralf, ruled out of last Sunday's Italian Grand Prix after a heavy crash in testing, said he assumed he would be fit again for the last two races and was amused by speculation about possible replacements.
"I'm doing everything to be really fit again and of course assume that I'll be in Indianapolis -- everything else is rubbish," he said on his website.
Schumacher, fourth overall, is out of the hunt for the title, but can still pick up points for himself and for Williams, who lead the constructors' championship.
Ralf's brother Michael, in a Ferrari, leads Williams' Colombian Juan Pablo Montoya by three points.
Doctors have advised Ralf to avoid stressful activity and he has a week of breathing and relaxation exercises ahead of him before the U.S. Grand Prix.
The German crashed in tests at Monza two weeks ago and suffered severe concussion. Spanish stand-in Marc Gene acquitted himself well in Sunday'a race, banking four points.
Formula One 2003 - Complete coverage
© Copyright 2005 Reuters Limited. All rights reserved. Republication or redistribution of Reuters content, including by framing or similar means, is expressly prohibited without the prior written consent of Reuters. Reuters shall not be liable for any errors or delays in the content, or for any actions taken in reliance thereon.



What do you think about the story?








Read what others have to say:





Number of User Comments: 1








Sub: No Doubt

Ralf is one of F1's most promising drivers though right now he is trailing Montoya on popularity as well as race results. The pressure of ...


Posted by Arup






Disclaimer