Home > Sports > News > Reuters > Report


Ralf confident of Indianapolis return

September 17, 2003 14:15 IST



Ralf Schumacher has dismissed speculation that he may not recover from a heavy crash in time for next week's US Grand Prix at Indianapolis.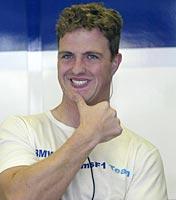 The German, whose Williams team leads Ferrari in the constructors' championship by four points, missed Sunday's Italian Grand Prix, but said he assumed he would be fit again for the last two races.
"I am very amused to hear and read these rumours about who will be taking my place for the final two races," Schumacher said on his personal Web site on Tuesday. "I can only say this: it will just remain speculation.
"I'm doing everything to be really fit again and of course assume that I'll be in Indianapolis. Everything else is rubbish."
Schumacher is fourth in the championship, and out of the hunt for the Formula One title with two races left, but can pick up valuable constructors' points.
Older brother Michael, chasing a record sixth title, leads Ralf's Colombian team mate Juan Pablo Montoya by three points after winning Sunday's race for Ferrari. McLaren's Kimi Raikkonen is seven points off the pace.
The US Grand Prix at Indianapolis is on September 28 and the final round is in Suzuka, Japan, on October 12. Paddock whispers at Monza on Sunday suggested that Williams could draft Canadian Jacques Villeneuve from BAR. Villeneuve had won the world championship in 1997 as a Williams-Renault driver.
The rumours were swiftly quashed by team boss Frank Williams.
Schumacher said he had begun so-called bio-feedback therapy in Salzburg on Monday, with a week of breathing and relaxation exercises ahead of him. Doctors have advised him to avoid any stressful activity.
Williams are testing at Silverstone, but a spokeswoman said Ralf Schumacher had never been scheduled to take part in that session.
Montoya and test driver Marc Gene, who took Schumacher's place at Monza, will test through to Friday.
Schumacher crashed in tests at Monza two weeks ago and suffered a severe concussion. He pulled out of competition on Saturday, complaining of a headache.
Spanish stand-in Gene acquitted himself well on Sunday, banking four points and taking the lead in a Grand Prix for the first time in his career.
© Copyright 2005 Reuters Limited. All rights reserved. Republication or redistribution of Reuters content, including by framing or similar means, is expressly prohibited without the prior written consent of Reuters. Reuters shall not be liable for any errors or delays in the content, or for any actions taken in reliance thereon.