Home > Sports > News > Reuters > Report


Raikkonen can be youngest champion

September 05, 2003 16:57 IST



Fernando Alonso became Formula One's youngest race winner last month and the next few weeks will make or break Kimi Raikkonen's hopes of becoming the youngest champion.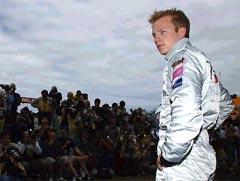 McLaren's 23-year-old "Iceman" has had a remarkable season, leading for some time and eclipsing more experienced team mate David Coulthard.
| | |
| --- | --- |
| | Also Read |
| | |
The final three races -- Italy next week, the United States later this month and the season's closer in Japan on October 12 -- will decide whether Ferrari's Michael Schumacher, Williams' Colombian Juan Pablo Montoya or Raikkonen takes the title.

"Anything can happen now," Raikkonen said after last month's Hungarian Grand Prix left Schumacher on 72 points, Montoya with 71 and Raikkonen 70.

Formula One supremo Bernie Ecclestone suspects that the 2003 champion will be fluent in Finnish rather than German or Spanish.

"I'm one of Montoya's biggest supporters and we all know about Michael," he told reporters this week. "Montoya can be either fantastic or not. Raikkonen is more consistent so you would probably have to put your money on him."

When Spain's Alonso won the Hungarian Grand Prix for Renault, aged 22 years and 26 days, he looked forward to his own title challenge one day.

For Raikkonen the dream is closer. He could be 2003 champion without winning another race if each of his rivals suffers a retirement.

NEW ORDER

Brazilian Emerson Fittipaldi and Schumacher were both 25 when they won their first titles and no driver has been champion at a younger age.

Raikkonen has enjoyed a remarkable turnaround in a season that was expected to serve as a backdrop to Schumacher's historic sixth crown.

But Schumacher's hopes of a fourth successive title are looking fragile and Raikkonen has played a big part in establishing the new order.

He and Montoya have each appeared on the podium eight times in 13 races, more than any other driver, with Raikkonen a runner-up in five Grands Prix as well as winner in Malaysia.

Williams and Ferrari are favourites for Monza but McLaren's impressive form in testing at the circuit this week suggests they could have something up their sleeve.

Raikkonen replaced compatriot and former champion Mika Hakkinen at McLaren at the end of 2001 after bursting into the sport with Sauber.

So precocious was he, with just 23 single-seat races to his name in Formula Renault, that the governing FIA put him on probation for the first four races.

Some grandees feared that he would prove a danger to others. Instead, Raikkonen scored a point with sixth place on his Melbourne debut.

His first win could, and should, have come last year when he led Schumacher at the French Grand Prix with six laps remaining. Instead, he skidded on oil and the German cruised to his record-equalling fifth title.

OVERALL LEAD

The breakthrough came this year in the heat of Malaysia, following on from a third place in Australia where Raikkonen had been in the lead but was let down by a mis-set pitlane speed limiter and received a drive-through penalty.

"My win in Malaysia meant a lot," Raikkonen said last month. "Suddenly I knew that I could win. I have done some good races and also a number of mistakes. Some have doubted that I can be world champion.

"But in my view, if one can win races then one can also win the world title."

Malaysia also propelled Raikkonen to the overall lead and he clung on, against expectations, all the way to Canada in June.

Along the way, the Finn was declared winner in a crash-stopped Brazilian race, only to be demoted to second behind Italian Giancarlo Fisichella after an inquiry, and took second at Imola in April.

He made mistakes in Spain and Canada and enjoyed a commanding lead from a first career pole position at the European Grand Prix at the Nuerburgring until his McLaren's Mercedes engine blew.

Spain was a low point. He started from the back after an error in final qualifying and then slammed into Brazilian Antonio Pizzonia's stalled Jaguar on the starting grid.

Canada was another race to forget. He started from the pit lane after failing to register a qualifying time but fought back to finish sixth.

At Hockenheim in the German Grand Prix, his race ended when he collided with Williams' Ralf Schumacher and Ferrari's Rubens Barrichello at the first corner.

"He has made mistakes but at the end of the day it comes from youth, it comes from a lack of experience and sometimes from trying too hard," says team boss Ron Dennis.

He is not alone there: Montoya and Schumacher have had similar frustrations and errors in a season of 'what ifs?'. Raikkonen could yet be the one celebrating at the end.

© Copyright 2005 Reuters Limited. All rights reserved. Republication or redistribution of Reuters content, including by framing or similar means, is expressly prohibited without the prior written consent of Reuters. Reuters shall not be liable for any errors or delays in the content, or for any actions taken in reliance thereon.