Home > Sports > Message Board


October 27, 2003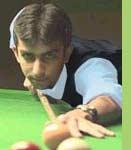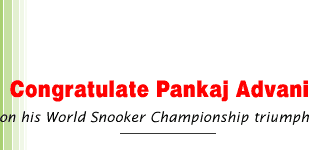 Nineteen-year-old Bangalore lad Pankaj Advani beat a host of seasoned campaigners to win the World Snooker Championship in Jiangmen, China, on Saturday.
In becoming only the second Indian to bag the crown, he emulated the feat of late Om Agarwal, who won the title in Ireland in 1985.
Let's salute the young king of the green baize.


What do you think about the story?








Read what others have to say:





Number of User Comments: 41








Sub: Conratulations

read about u in Inidia today n Outlook. Don't know much about either snooker or billards.......... but as an Indian, so damn proud of u ...


Posted by ellora









Sub: Pankaj

Billiards and Snooker are the only games in which India has had true world champions. Right from Wilson Jones, to Ferreira to Geet, we have ...


Posted by GB









Sub: well done

congrats keep it up please be consistent in your performance


Posted by manu mallesh









Sub: congrats

this is a great achievement pankaj......i hope to congratulate you on many similar occasions in future too.....


Posted by Sagar









Sub: Congrats Pankaj.we are proud of you.Keep it up

Hi pankaj, we are proud of you and wish you congratulations for your win.we hope not only do you get more wins like this but ...


Posted by keyur shah






Disclaimer