Home > Sports > News > Reuters > Report


Ralf criticises 'avoidable' error by Williams

October 01, 2003 19:29 IST



Ralf Schumacher has criticised his Williams Formula One team, saying they made an avoidable error in Sunday's US Grand Prix that allowed Ferrari to take the championship lead.

But the team's partners have hit back, blaming the driver.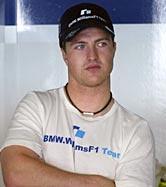 Schumacher, returning at Indianapolis after a crash in testing ruled him out of the previous Italian Grand Prix, spun out of a wet race that also cost Colombian teammate Juan Pablo Montoya his title hopes.
Older brother Michael, chasing a record sixth title, won for Ferrari to take a nine-point lead over McLaren's Kimi Raikkonen into the final race in Japan on October 12.
Ferrari are three points clear of Williams in the constructors' championship.
"After the pit stop I was even in the lead, but then there was nothing but chaos," Schumacher said on his Web site.
"For two laps I tried to find out via radio what their view on the weather was in order to possibly make a tyre change. Nothing. No information, everyone was drowning each other with chatter.
"And when the order finally came to come into the pits I had already gone 100 metres past the entrance. It was a mistake that we could have avoided."
But BMW motorsport director Mario Theissen dismissed the comments, telling Cologne's Express newspaper: "This criticism we can throw straight back at him.
"It was the other way around. We were waiting for an answer from Ralf, but there was nothing from him. He stayed out for another lap and then spun out on his own."
Formula One 2003 -- The complete coverage
© Copyright 2005 Reuters Limited. All rights reserved. Republication or redistribution of Reuters content, including by framing or similar means, is expressly prohibited without the prior written consent of Reuters. Reuters shall not be liable for any errors or delays in the content, or for any actions taken in reliance thereon.