Home > Sports > News > Reuters > Report


Federer hopes to lose enigma tag

June 16, 2003 15:16 IST

Roger Federer's defeat of Pete Sampras in the Wimbledon fourth round two years ago seemed certain to set the Swiss man on the road to grand slam glory.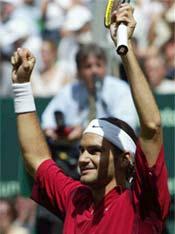 But despite possessing a bundle of talent, Federer has become the enigma of the tour, winning a succession of tournaments only to fail when it comes to the biggest stages.
It may seem harsh to criticise a player who has climbed to number five in the world rankings and who crushed German Nicolas Kiefer 6-1 6-3 in the Halle Open final on Sunday.
But in seven grand slam events since the victory over Sampras, Federer has never gone beyond the fourth round and he has lost in the first round on three occasions.
Federer took heart from his Halle triumph, his first grasscourt title, describing it as "the perfect preparation for Wimbledon".
But now he must carry the momentum of the Halle win with him to London next week, after a few days' rest at home.
Last year, after entering Wimbledon as one of the favourites, Federer was blown off court in the first round by big-serving Croat Mario Ancic.
His mental strength was again called into question at the French Open last month when, despite being seeded fifth, he lost in the first round to Peruvian Luis Horna, who had never won a grand slam match before.
"He didn't play a bad match and I didn't play a good match, the one definitely helps the other, you know?" was all Federer said in Paris.
With his classic serve-and-volley game, allied to a superb backhand and good speed around the court, Federer would seem an ideal candidate to succeed at Wimbledon, if he can survive the opening round.
"I prefer the second and third rounds to the first round because by then you are used to the court and the conditions," he said. "And I have a pretty good record in finals.
"But there's a lot of work to be done. I want to serve and volley better, hit more aces, and I have to feel more comfortable on grass."
In Halle, Federer varied his game well, testing his baseline game as well as his serve-and-volley skills.
"I wanted to get in a groove from the baseline just in case I play someone who plays like that," he said.
"At Wimbledon I want to be more aggressive than this week. I will have to pick the right shots to come in on.
"I play my best tennis when I'm playing aggressively," he added after beating Kiefer.
Halle was Federer's fourth title this year and he is on course to outdo his career-best performance in 2002, when he won 58 of his 80 singles matches.
Sunday's win allowed him to join the elite band of active players who have won on all four surfaces -- grass, clay, hardcourt and indoors.
"With my ranking and my game, the way I'm playing, I know I can win a lot of tournaments," Federer said.
Whether one of those tournaments is a grand slam remains to be seen.
© Copyright 2005 Reuters Limited. All rights reserved. Republication or redistribution of Reuters content, including by framing or similar means, is expressly prohibited without the prior written consent of Reuters. Reuters shall not be liable for any errors or delays in the content, or for any actions taken in reliance thereon.