Home > Sports > Interviews


The Rediff Interview/Leander Paes

'I am blessed to have Martina in my life'

July 24, 2003

Indian tennis has not had it better in a long time: two Wimbledon titles this year despite the 'Indian Express' team of Leander Paes and Mahesh Bhupathi exchanging volleys on either side of the net.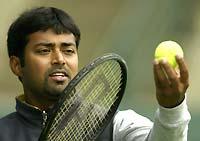 India's first homebred champion Sania Mirza won the girls' doubles title and proved that talent is abundant in the country, and nurturing it is the challenge.
Paes, who won the mixed doubles crown at Wimbledon title with the legendary Martina Navratilova, believes that it's time to breed champions at home instead of sending them overseas.
After 10 years on the international circuit, his hunger for success hasn't diminished.
In an exclusive interview with Faisal Shariff, Paes reveals his vision for Indian tennis.
What keeps a champion with an individual Olympic medal, 27 doubles titles and doubles Grand Slam crowns going?
Just trying to be the best that I can ever be. I was born with a God-given talent and I want to explore all opportunities, whether as a tennis player or as a human being, and to give back to society what I got out of it. At the same time, whatever other endeavour I undertake, I want to give it my all; be it in designing clothes, fashion, starting a tennis academy or business. Anything I would dig my hands into I want to be the best and that's what strives me when I wake up each morning.
Where does the intensity come from?
Motivation is my biggest strength. I am never short on enthusiasm or short of energy to wake up and go after a goal. I always had it as a kid. If I want to attain something I will do anything to covet that.
Related Links:
Winning with Martina at Wimbledon just too much
Paes-Navratilova win Wimbledon mixed doubles
Wimbledon: Sania-Alisa lift girls doubles title
Your father said you had a very traumatic style of playing which took its toll on your body. The break-up with Mahesh Bhupathi didn't help your cause too much. What inspired you to the game again?
I must say 2002 was tough; the timing was very inappropriate. It took me time to bounce back, six months to find a new partner. My ranking dropped from number one in April 2002 to number 37 in December 2002. I almost lost my profession because of that. But I would attribute this passion returning thanks to my friendship with Martina Navratilova. For someone who is such a legend of the game to come out at 46, to come out each morning and be the best that she can be, there is something very special there.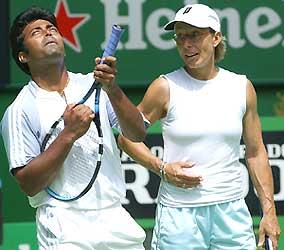 I am blessed to have Martina in my life. She inspires me in so many levels. At the last US Open, when we started playing together, I asked her if she had any special book written which I could read. She said it was 'Martina, being myself'. I am reading it for the third time over now. Little things in her life that have made her what she is today is something that touched me.
Coming from India, where the obstacles are great, one really found the passion in playing again. Now I don't have to play so much for money, fame or any materialistic need. I play the game because I am passionate about it; because I am a student of the game and physical training. I'm enjoying it a lot now than I did 10 years ago.
What is your vision for Indian tennis?
For any sport in India we have the facilities and training academies. To take it to the next level we need professionalism; not just in technique and strokes, but also in the diet, training regimes and mental training. It's a lifestyle. The lifestyle of a professional athlete is very demanding. It takes someone who is very dedicated along with environment to hone a champion. My goal is to come back to give to India in terms of setting the environment to mould champions. I have a tennis academy in Kolkata for eight years now -- Paes and Sport. When we looked to nurture tennis players, we thought: 'what does the Paes family get to Indian sport?' And we figured we brought athleticism. Whether it was my mom, who represented India in basketball, or my dad, who won a coveted field hockey Olympic medal, or me.
In tennis, the reason we did well was because of athletic ability. So we looked to nurture athletes. Looked at it in a specific manner to be a champion. It will take us two weeks to explain it. I would like to give that back to Indian sport.
Sania Mirza, who won the girls' doubles title at Wimbledon this year, is India's first home-bred champion in a long time. Is it so difficult to prepare champions at home?
I sincerely believe that if we have to send athletes abroad, especially the young ones, 14 to 17-year-olds, the finance becomes a big issue. Majority of our children don't have finance backing to hone their talents. Even if we do it at home, the large part of our population either cannot afford the training costs. We should subsidize the training; make it more reasonable for anyone to get in.
It's a hard one to do because we need a lot of sponsorship from corporate houses. That's the only way we can nurture talent. By having centers where any child recognised for his talent can be made to be the best. It's got to be home bred. We are a long way away from setting up such academies. It is for people like us to take the responsibility and give back to India what we have got out of it.
With the experience and opportunities I have had to travel internationally and have coaches around the world, I should take up upon myself to set up such academies.
How difficult was it for you when you started off?
Naresh Kumar was my mentor; I am what I am thanks to my parents and him. When I started there were no sponsorships. I required $240,000 every year to hone my talent. It included my airfare, the coach's fees per week; he used to travel with me for 35 weeks in a year, his airfare, laundry, hotel transportation and food.
Adidas, Reebok and Prince now take care of equipment, but at that time it wasn't the case. India didn't have that sponsorship. My father worked for hours on end to muster sponsorship for me. I wouldn't be half of what I am without him. Rather than sit back and look at negatives, I turned it around and asked how I could turn things around. Nothing is difficult to achieve if you want it bad.
More Interviews


What do you think about the story?








Read what others have to say:





Number of User Comments: 5








Sub: paes-martina

i have seen many duels between martina and chris evert...it leaves me panting,when i watch our own paes playing with martina... paes--- best of luck.i ...


Posted by pvramanujam









Sub: Leander The Great

Easily one of the best champions India has ever produced. I have been previleged to watch him script some of the memorable victories, though on ...


Posted by Baljit Sidhu









Sub: Martina inspires me

Hats off to Paes and his wonderfulweall wish you all the very best.There area lot of people who would like to assist him in his ...


Posted by vps









Sub: Thanks a lot

U r a true indian. thanks for being indian from heart


Posted by Pavanesh









Sub: You inspired me

Paes, this is really touching. I always feel great to see you on winning streak. Yeah, you are very much true in regards to the ...


Posted by Prasad






Disclaimer