Home > Sports > News > Reuters > Report


Schumacher relaxed after fourth place finish


July 21, 2003 11:48 IST



Ferrari's Michael Schumacher sounded relaxed after seeing title rival Finn Kimi Raikkonen trim his lead by just one point at an action-packed British Grand Prix on Sunday.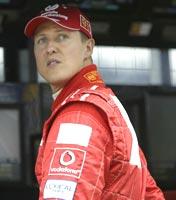 "I'm quite satisfied, especially because Raikkonen was only third and picked up just one point -- as a result not a lot happened," said the German world champion, who finished fourth.
Plenty happened in the race, however, with a protestor suddenly appearing on the track during the 12th lap wearing a Scottish kilt and holding up protest placards that seemed to carry a religious message.
The safety car came out and chaos ensued as 14 cars pitted at the same time.
Schumacher told German television he had seen the protestor, whose action was reminiscent of a 2000 German Grand Prix protest by a disgruntled former Mercedes employee.
"I saw him and had to evade him," said the German of the 56-year-old man who trotted along the track as cars approached at speeds well in excess of 200 kph.
"I was a bit shocked because he was so close to me all of a sudden. But, on the other hand, it wasn't really that dangerous because he wasn't being totally unreasonable and running into cars. He just was doing his show."
The pitstop, at the same time as team mate and eventual race winner Rubens Barrichello, meant Schumacher had to wait behind the Brazilian.
"When both cars come in at the same one time has to wait, and that was me," he said.
"On top of that, a lot of cars came in and there was a lot of traffic, so our team was extra cautious to make sure that Rubens didn't have trouble getting out. So I had to wait. The only thing missing was the coffee."
© Copyright 2005 Reuters Limited. All rights reserved. Republication or redistribution of Reuters content, including by framing or similar means, is expressly prohibited without the prior written consent of Reuters. Reuters shall not be liable for any errors or delays in the content, or for any actions taken in reliance thereon.