Home > Sports > News > Reuters > Report


Formula One will come to India: Ecclestone

July 16, 2003 10:49 IST
Last Updated: July 16, 2003 12:36 IST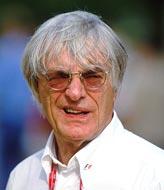 India will host a Formula One race in the future, according to the sport's business supremo Bernie Ecclestone.

"We will be having an F1 race in India, for sure. When and where it will be I cannot say," Ecclestone told Indian news magazine 'The Week' in a recent interview.

"India is moving forward very fast. After doing something in China, India is next," he said, adding that he was confident of attracting adequate sponsorship in the cricket-mad country.

China and Bahrain are due to host races for the first time next year. Japan and Malaysia are the other two Asian countries which are part of the championship.

Ecclestone said the southern city of Hyderabad was a front-runner to host an eventual race in India and governing International Automobile Federation (FIA) was in touch with authorities in the regional government.

Hyderabad is an emerging technology centre.

"We have been speaking to intermediaries. So they know the FIA is interested," Ecclestone said, adding that he planned to visit India in the near future to inspect facilities.

India has had Formula One ambitions for some time with FIA president Max Mosley inspecting the country's only race track near Madras in the south a decade ago.

Ecclestone has spoken recently about the likelihood of a Grand Prix in Turkey in 2005 and a possible return to Argentina, which last hosted Formula One in 1998. He also hopes for a Russian race in future.

© Copyright 2005 Reuters Limited. All rights reserved. Republication or redistribution of Reuters content, including by framing or similar means, is expressly prohibited without the prior written consent of Reuters. Reuters shall not be liable for any errors or delays in the content, or for any actions taken in reliance thereon.






What do you think about the story?








Read what others have to say:





Number of User Comments: 14








Sub: Why Criticize Hyderabad?

The CM of Andhra offered every possible help and promised to build roads,hotels to accomadate ,etc,. for the event and they found the facilities here. ...


Posted by Vishnu Reddy









Sub: HYDERABAD IS A GOOD CHOICE

Its kind of weird seeing people assume that Bangalore or mumbai would be a better bet than HYD if and when F1 comes to India. ...


Posted by bhawani









Sub: Great news for F1 lovers

Its great to hear that authorities are realizing India's growing interest in F1. This will encourage many young talents to take up F1 and most ...


Posted by Saurabh









Sub: F1 Circuit in India

Its really nice to hear that formula one is finally expected to enter india. At the same time its nice to hear that Hyderabad might ...


Posted by Sirish









Sub: F1

Its not only great for Andhra, as a whole its great for India... We hope to see shortly some international standard tracks.


Posted by Padhu






Disclaimer