Home > Sports > News > Reuters > Report


McLaren's new car unlikely to race

July 12, 2003 12:44 IST



McLaren's new Formula One car is unlikely to race for the first time until the current season is almost over, Mercedes motorsport boss Norbert Haug said on Friday.

But he said the car, which has endured a troublesome birth with two crashes since its test debut in France in May, was not an expensive failure.

Some German newspapers have accused McLaren and Mercedes of wasting 50 million euros on developing a car that now seems unlikely to be used for more than the final Italian, U.S. and Japanese grands prix.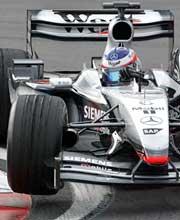 "Due to the upcoming test ban, we won't be able to bring the MP4-18 to any of the next three races. We aren't under time pressure and need additional tests," Germany's SID agency quoted Haug as saying in an interview.
"Building this completely new car is a complex task. The chances of the car being introduced this year are good and the MP4-18 represents in any event a perfect basis for next year's car," he added.
"It doesn't matter at all whether it's called MP4-18 or 19," said Haug.
"We didn't squander any money. It's not a failed project, rather the project of the future. We will harvest the fruits of it.
"There's no disquiet or panic around here. We're right in the midst of the championship race. The old car has the potential to win races."
McLaren have been using the MP4-17D, a development of last year's car, to good effect this season with Finland's Kimi Raikkonen currently second in the championship only eight points adrift of Ferrari's Michael Schumacher.
The target date for the introduction of the new car has been pushed back steadily, with McLaren team boss Ron Dennis saying in April that the target was for it to race "no sooner than Canada, no later than Silverstone."
The British Grand Prix at Silverstone is next week, after which there is a testing ban for the following German and Hungarian races.
McLaren have said they want to be sure of the car's reliability before risking it in a race, particularly while they remain in the hunt for the drivers' and constructors' titles.
© Copyright 2005 Reuters Limited. All rights reserved. Republication or redistribution of Reuters content, including by framing or similar means, is expressly prohibited without the prior written consent of Reuters. Reuters shall not be liable for any errors or delays in the content, or for any actions taken in reliance thereon.