Home > Sports > Interviews


The Rediff Interview/Vijay Amritraj

'In India players tend to mature a bit late'

July 01, 2003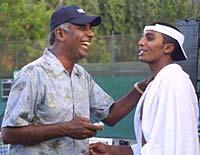 For almost two decades, Vijay Amritraj was a prominent figure on the world tennis scene. For 14 straight years during that period, he was also ranked No. 1 in Asia. Though he still plays on the veterans circuit from time to time, in recent years he has established himself as a leading television commentator on the game.
In Mumbai recently with his son Prakash, who was participating in the ITF Satellite circuit, the Indian tennis legend discussed with Ashish Magotra, among other things, the Indian tennis scene and his son's steady rise in the game.
Do you think youngsters in India start playing professional tennis really late?
I think it's not a question of starting late; it is a question of what age the youngsters mature. To a certain extent, we in India tend to mature a little bit late in the physical element. I think mentally we are a lot sharper at a younger age but we need to, sort of, physically mature enough to be able to compete with the best.
If you compare someone like your son Prakash, who is 19, and Guillermo Coria, who is 21, there is a huge gap between them at the moment...
I think it is hard to say. Every six months you need to see some kind of improvement in an individual. Prakash's goals are clear. He wants to play professional tennis at the highest level. He has committed himself to a purpose and it remains to be seen how far he goes. As far as his commitment goes, there is no question. My ability and desire to help him is clear. So let's hope he fulfills his dream. The important thing, of course, in today's world of professional tennis is that you have to stay physically well.
How difficult is it for you to coach your son?
It's not easy; simply because you have such affection for the individual that very often it is difficult to distance yourself from what you would call a project. There I would give a lot of credit to Prakash, who has played the pupil role to perfection.
Prakash recently completed a hat-trick of titles on the Indian ITF-Satellite circuit. Why did he make his debut in India. What brought about that decision?
The conditions in the United States are good but they are nowhere as difficult as they are in India. So it is a great experience to come here and get better. Prakash's goal while playing in India is to not just play in Indian conditions but to become a better player. The heat, the atmosphere, the balls play differently under different conditions. So within one country you get an incredible experience under different conditions.
When you look at the Indian tennis scene in the past three decades, we have had you, Ramesh Krishnan and then Leander Paes. But after that we have had a lull. Is there anything you attribute that to?
Well, for whatever reasons, there has always been a gap, or we have been relying on one or two individuals to be able to hang on for a decade-and-a-half. And it is never easy. I always hoped we would have 6 to 10 kids pushing each other to get to the top and that way we would have at least half-a-dozen good players at the top of the game. And when I say top of the game, I mean just not the top of Indian tennis but in the top 100 of the world. I think, the yardstick should be to be in the top 100 in the singles in the world, that makes you a complete professional.
What would you say are the requirements to figure in the top hundred in the world?
Well, most of the kids I have seen playing in India have the talent and the potential. The question then turns to desire, commitment, opportunity and sacrifice.
So is tennis these days more of a mental than physical sport?
Both. It was always a very tough mental game, irrespective of which era you played in. It has become a lot more physical than when we were playing, though we did play longer matches because they were no tie-breakers. But today you have to be stronger for a shorter duration of time, like for say 1-2 hours. So you have be physically very, very strong in the upper as well as lower body.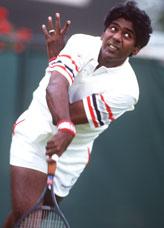 How much of a difference has technology made to tennis?
It's for everyone. It has speeded up the sport a lot but it has taken a certain amount of skill out of the sport, because you are hitting the ball a lot harder with lesser movement to different parts of the court.
Do you sometimes want to go back to the wooden rackets, the wooden frames?
You can never go back; you never want to. But in certain cases you might want to arrest the so-called progress as far as technology is concerned and keep a certain amount of skill involved.
The ABC (Amritraj, Bjorn Borg and Jimmy Connors) of tennis... Do you miss those days?
No, I am always very happy and grateful for the times I played tennis at the time that I did. I think I played at the time when tennis was at it's best.
More Interviews


What do you think about the story?








Read what others have to say:





Number of User Comments: 1








Sub: Tennis

I do not agree with Amritraj's comments.But why our Tennis players including Amritraj brothers quit tennis when they were still going strong when compared to ...


Posted by Capt Ganeshyam






Disclaimer