Home > Sports > News > Reuters > Report


Egypt's Shabana is world squash champion

December 22, 2003 11:02 IST



Amr Shabana, the world number 11 from Cairo, became the lowest ranked player and the first Egyptian to win the World Open squash title after he completed a sequence of startling upsets in the final.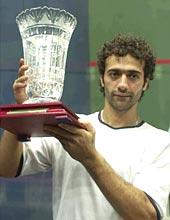 The 24-year-old won 15-14, 9-15, 15-11 15-7 against Thierry Lincou, the fourth-seeded Frenchman who 24 hours earlier had made certain of becoming world number one for the first time.
But Shabana, who had previously beaten the defending world champion David Palmer, the world number five Anthony Ricketts and the world number seven Karim Darwish, prevented Lincou from achieving his two greatest ambitions in successive days.
"I've never played such fantastic squash before," the new champion said.
"This is the perfect place to play magical squash," he added, referring to the long line of great world champions who have come from Pakistan over the past 50 years.
Lincou, who hails from Reunion Island in the Indian Ocean, had useful leads in all of the first three games without being able to capitalise on two of them.
"I fought back but I used up too much energy," said Lincou. "I felt dizzy at the start of the fourth game. I couldn't see the ball and I had no energy left -- I don't know why."
Shabana said of his march to the title: "I never counted myself out and always gave myself a chance. I moved forward and gained more confidence round by round."
The final was played mainly without disciplinary problems, unlike Friday's stormy quarter-final when a series of rows between Shabana and Australian Ricketts culminated in the two men grabbing hold of each other and wrestling.
Meanwhile, Pakistan players, struggling to revive their squash dynasty, were handed an incentive after the tournament.
The country's president Pervez Musharraf announced the government would reward any Pakistani player who won the World Open with 10 million Pakistan rupees and the British Open with five million rupees.
The last time the World Open title fell to Pakistan was in 1996 when Jansher Khan won.
© Copyright 2005 Reuters Limited. All rights reserved. Republication or redistribution of Reuters content, including by framing or similar means, is expressly prohibited without the prior written consent of Reuters. Reuters shall not be liable for any errors or delays in the content, or for any actions taken in reliance thereon.



What do you think about the story?








Read what others have to say:





Number of User Comments: 1








Sub: Please indicate venues...

Dear Rediff Your article does not say where this game was played at all. I did gather that it might have been played in Pakistan. ...


Posted by Kiran






Disclaimer