Home > Sports > Interviews


The Rediff Interview/Krishnan Sasikiran

'I shouldn't experiment much against stronger players'

August 13, 2003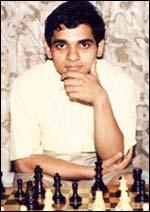 Krishnan Sasikiran

is just back from a tour of Denmark, where he played the Category - 15 North Sea Cup and Politikin Open. It was his first appearance in a Category 15 tournament, and he came out with flying colours, winning both the tournaments.
He was a joint winner at the North Sea Cup, sharing the title with Alexey Dreev of Russia and Luke McShane of the United Kingdom. At the Politikin Open, he collected 9 points from 11 games and emerged triumphant. This performance is considered the strongest win in Sasikiran's career.
After these two titles, the chess world has started looking at Sasikiran with a lot more of interest. His game against Rasmus Skytte in the North Sea Cup was chosen as the Game of the Week by Kasparov's web site and Igor Glek, who annotated the moves, said, "Anand isn't India's only brilliant player."
From
Denmark, Sasikiran went to Germany to work with Arthur Yusupov for five days before returning to India.
Now that the All India Chess Federation has exempted Sasikiran from playing the National 'A' event, a privilege only enjoyed previously by Anand, he can go to Russia and play a stronger tournament.
Shobha Warrier
spoke with the 21-year-old Grandmaster.
You returned triumphant in both the major tournaments that you participated, the 18th North Sea Cup International and the Politikin Cup Grandmaster open tournament. Did you expect to win both the tournaments? Or, like you said in earlier interviews, collecting a few Elo points was your only plan?
It is always my desire to pick up a few Elo points. I got some 20 Elo points from both the tournaments but I still need 25 or more points to reach the 2700 mark. Okay, it made me happy, because I managed to win both the tournaments!
I feel I could have played better in the North Sea Cup tournament and collected more than 12 Elo points from the tournament.
Was it because you lost to top seed Alexey Dreev that you feel you didn't play well? Your only loss in the tournament was against him.
Yeah. I feel I should have played better against him. My opening was faulty. I didn't understand his plan, basically. He managed to positionally outplay me. Probably lack of understanding was the reason why I lost. He might have played that position several times but I didn't understand him.
I also learnt that while playing against stronger players, I shouldn't play moves that are not known to me well. I chose some moves that are new to me. The opening I chose was quite new. Believe me, I had not played it earlier, not even once before; that was for the first time in my life that I was playing that opening! I think I shouldn't experiment much against stronger players. I was leading him by half point and then I took such a risk, which in hindsight was quite unnecessary. I could have played something solid.
It's okay I made some mistakes, but I learnt from my mistakes. Dreev also mentioned about my mistakes while we discussed the game later.
Did you feel bad after the loss, because you were leading till then, or did it make you work harder?
I was more determined to win after the loss. I wanted to win with white against Hansen very badly in the next and the last game.
Do you consider your victory against the local stalwart, Curt Hansen, in the last round, which made you the joint winner, the best game of yours in the tournament?
I would not say it was my best game. I made a lot of mistakes in that game. It was a kind of see-saw game. Finally, he was under time pressure.
I think the game against Lars Schandroff in the sixth round was my best. I played with black pieces and introduced some new moves in the opening. I also liked my end game. I think I played my end game quite well. I won after 56 moves. After the sixth round, I was leading with five points.
What have you learnt, now that you played against stronger players in these two tournaments?
Like I said earlier, now I know I shouldn't try out anything that I do not know well against stronger players. I should play a game that I am comfortable with rather than try to surprise the opponent. I now know that I should concentrate more in the choice of opening against stronger players.
I feel I played more risky games in the whole tournament, taking a lot of risks.
This was your first major outing, playing against very strong opponents, was it not?
Yes, this was my first Category-15 tournament. I am happy that I performed quite okay in my first major outing itself. Sharing first place in my very first Category-15 tournament is a major morale booster.
How do you compare the North Sea Cup and Politikin Open tournaments? Which was tougher?
The Politikin Open tournament was tougher because any Open tournament is tougher. In an Open tournament, you have to prepare for your opponents daily as you will know the opponent only the day before. In a closed tournament, you can prepare in advance.
What was on your mind when you went from India to Denmark?
My plan was only to pick some Elos. I had no idea what colours I would be getting. My father says my calculation has improved after these two wins. Maybe, I am a little more confident!
Are you looking for more sponsors now so that you can play more tournaments in Europe?
I am happy with the way ONGC takes care of me. They sponsor my entire trip, take care of the airfare, boarding, lodging….all my needs…and I am happy. I can play as many tournaments as I want.
Yes, I do feel I should be going outside and playing more tournaments. I plan to play 10-12 tournaments outside the country in a year, and 1 or 2 in India. Only that way, I will gain experience and become stronger. Now, I think I should be preparing a lot and improving my game.
Do you think you need a personal coach now?
It is always good to have a personal coach. At present, my dad is coaching me. But I need to work on my game myself.
After the games, I went to Germany and worked with German GM Arthur Yusupov for five days. It was a good experience. I think when I play a few tournaments now, I will find an improvement.
Yeah, I think it will help me if I work with a 2600 player! It is better to have such a working partner.
Your game against Rasmus Skytte was chosen as the game of the week by Kasparov's web site. How do you feel?
I felt happy because it was Kasparov's web site that gave me the recognition!
I read the All India Chess Federation exempted you from playing the National 'A' tournament hereafter even though you are the defending champion. After Anand, you are the only player who has been given this exemption. Is it because you want to play more tournaments outside the country that you asked for exemption?
Actually, it is the All India Chess Federation which took the decision to exempt me from playing the National 'A' championship. I did not ask them.
The National 'A' always clashes with the Aerofloat Open in Russia, which is a big tournament. I also like to play stronger opposition. It is difficult for me to maintain the rating if I play in India. I have to score a lot of points. I am happy that I can play stronger tournaments outside India and improve my Elo. I have better chances to improve my Elo if I play the Aerofloat Open.
More Interviews