Advertisement





Manisha Malhotra, CEO, Mittal Champions Trust, has the onerous responsibility of nuturing Indian athletes from five Olympic disciplines -- archery, wrestling, shooting, athletics and boxing -- and providing them the best training, nutrition and supporting infrastructure.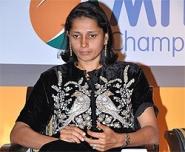 The former tennis ace, who represented India at the 2000 Sydney Olympics and won a silver medal in the mixed doubles, partnering Mahesh Bhupathi, at the 2002 Busan Asian Games, knows what it takes to become a champion having been there and done that.
Thirteen of the 33 athletes the Mittal Champions Trust supports in its quest for a World/Olympic champion have already qualified for the upcoming London Olympics, and Malhotra is confident that some of them will return from the Games with medals.
Abhinav Bindra, Ronjan Sodhi, Heena Sidhu and Joydeep Karmakar are the shooters who have made it to the Games, along with archers Laishram Bombayala Devi and Chekrovolu Swuro; pugilist Vikas Yadav, athletes Seema Antil and Gurmeet Singh, and wrestler Yogeshwar Dutt.
Can Bindra repeat his gold medal-winning feat in the 10 metre air rifle event of the Beijing Games? Which of the abovementioned athletes has the best chance for gold, or a medal for that matter?
Malhotra will answer all these questions and more on Wednesday, May 16, on rediff chat at 3 pm. Join in.