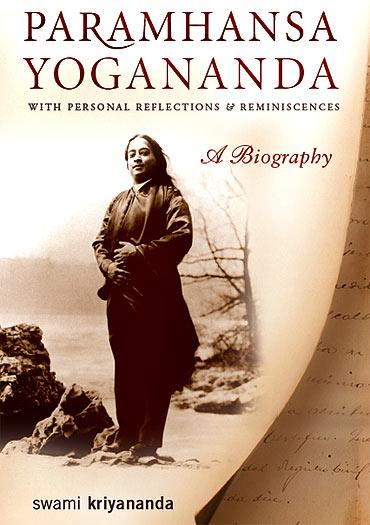 Swami Kriyananda, then a young American who had become Yogananda's disciple at age 22 and who became one of his trusted lieutenants, has come out with an intimate and powerful story of Yogananda, betraying knowledge only an insider would claim. It is a biography that needs to be read but, Kriyananda warns, it is not a hagiography
He was often compared with Swami Viveknanda, who too stormed the United States in the last century, earning laurels for himself and India. There is no doubt that Yogananda, born in Gorakhpur as Mukunda Lal Ghosh into a spiritually inclined middle class Bengali family, was one of the greatest saints India ever produced. When he came out with his masterly classic, Autobiography of a Yogi, in 1946, Yogananda became a spiritual legend, having already spent a quarter century in the US preaching Kriya Yoga and meditation to thousands of god seeking whites and blacks.
The Autobiography was a gem since God-like figures rarely write their own story. It revealed how a young boy, blessed by saints and possessing utmost devotion to Divine Mother, came to acquire such spiritual aura. Countless numbers have read it over and over again, giving it the veritable status of a holy book. Unlike Vivekananda, Yogananda stayed on in the US -- for over three decades. He passed away in 1952 most dramatically, collapsing just after expressing his love for India at an event meant to honour New Delhi's ambassador to Washington, DC.
Among those who witnessed the final moment was Swami Kriyananda, a young American who had become Yogananda's disciple four years previously at age 22 and who became one of his trusted lieutenants. The four loyal years helped Kriyananda (originally J Donald Walters) gain invaluable insight into Yogananda. Now, at age 85, Kriyananda, who moved to India in 2003, has come out with an intimate and powerful story of Yogananda, betraying knowledge only an insider would claim. It is a biography that needs to be read.
It is not a hagiography, Kriyananda warns. It is not about superlatives and unadulterated praise. Also interwoven in the biography, in parts, is Kriyananda's own story, including his struggle with some who did not appreciate him.
There are elements of Yogananda's life that were mystifying to the American although he never doubted the guru. Yogananda had once stated that he had been Arjuna the warrior in an earlier incarnation. But when he said he had been William the Conqueror too in another era, Kriyananda admits he found that claim difficult to swallow.
Yogananda made other assertions too, according to Kriyananda. He said it was he who put it into Hitler's mind to invade the Soviet Union during World War II, so as to create another war front that made it possible to defeat the seemingly invincible Nazi military. The Indian guru, who considered Communism "a God denying evil", also said that it was who put it into President Truman's mind to go to the defence of South Korea against the North Koreans.
Yogananda never spoke about any of these publicly. Indeed, he never referred to his miraculous powers. If people raised them, he promptly credited it to all to Divine Mother whom he had worshipped since childhood. In that genre, Yogananda was genuinely humble, a true yogi, with a soul wedded to divinity.
Like Yogananda's younger brother who revealed, decades later, that the Autobiography did not fully reveal the spiritual accomplishments of the yogi, Kriyananda comes up with some events in the Indian guru's life story that are jaw dropping.
An American real estate agent whose wife was dying pleaded with Yogananda to save her. This happened at Encinitas in the US where the guru was based. "I will pray for her but God doesn't tell me to visit her at this time," Yogananda ruled, no doubt disappointing her family. But when the woman died, he visited her house and the room where she lay dead. Kriyananda reveals what happened next: "He touched the woman on the forehead and over the heart. After some time, she opened her eyes, finally smiled up at him. She was completely healed."
On another occasion, Yogananda wanted to serve carrot juice for 10 guests who had suddenly trooped in. But the stock had exhausted except what could fill only a third of a teacup. Yogananda had that small quantity poured into a pitcher. But when fellow yogi Michael Krull took the pitcher around, the supply of carrot juice was unending! "None of the guests realised what had happened. Only Michael was aware that it had been a miracle."
Yogananda's was a non-sectarian approach; he worshipped Jesus Christ as much as Lord Krishna. His message of divine love was so powerful that the halls where he spoke about meditation and Kriya Yoga often overflowed with people. Naturally, religionists and white supremacists hated him; so did a section of the media. There were even attempts to kill him. Yogananda was undaunted. His piercing looks were enough to send one man who had sneaked in to attack him run out to the ground and roll over it in agony, crying that he was on fire!
Unlike some spiritual masters who seem to perennially sport a grave look, Yogananda was a lively and magnetic personality, enjoyed jokes, loved nature and all creations of God, adored tennis and wrestling, and was an athletic runner too! After making America his home, he visited India only once, a trip when he gave Kriya to Mahatma Gandhi. In 1948, two years after his Autobiography was published, Yogananda had an extraordinary 48-hour samadhi. It was the start of his last phase of life when a majority of his long-destined disciplines came to him. It was also when Yogananda's renunciate order really flourished.
So what influence did Yogananda have on the US where people are not given to intricate philosophy? "Though time alone can show what impact Yogananda's life had on Western civilisation, I cannot but think it will prove to have been very great."
Swami Kriyananda will launch Paramhansa Yogananda, A Biography and give a discourse at NCPA, Nariman Point, Mumbai, on Sunday, January 8, at 6 pm