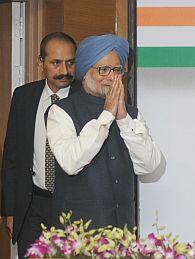 The prime minister was aggressive during his interaction with the media, but no one came away enlightened on issues of governance of this complex country after hearing him for 75 minutes, says Sheela Bhatt, who attended the press conference on Friday, January 3.
Prime Minister Manmohan Singh played politics perfectly on Friday. Some 150 journalists asked more than 40 questions in a 75-minute interaction, but failed to get a candid answer.
The media did not expect Dr Singh to say something radical, but the prime minister had a historic option to provide new insights, change his negative public image and help critics to evaluate him correctly. But his press conference was a huge disappointment.
The four biggest issues that confront India today are lack of governance, price rise, corruption and internal and external security-related issues. The prime minister spoke on these issues on expected lines -- he did not say anything substantially new.
He played safe. He remained calm and ducked personal questions that tried to provoke him. As senior Bharatiya Janata Party leader Arun Jaitley said later, the prime minister resorted to stock answers like 'history will judge' and 'time will tell' for most questions.
He was confident, at times aggressive, and always showed that he was interested in listening and responding to questions, but he did not say anything new on the grave national issues that have marred his and the United Progressive Alliance government's image.
When Dr Singh hit out at Narendra Modi, it was a sure sign that the prime minister wanted 'Modi-bashing' as the headline for the media interaction, not providing an opportunity to ponder over the other serious issues.
He played to the gallery in the sense that he knew what the television media would highlight and play upon. Modi is the easiest subject to hit the headlines.
Unfortunately, neither was the media successful in eliciting a new outlook from him nor did he choose to share with the country at large all that the people want to know about the ten years of his rule.
Dr Singh had done his homework too well; he stuck to the rehearsed lines of attack and defence, as and when they were needed.
This was probably his last media interaction as prime minister, but his responses did not allow us to know his inner-most thinking.
Why didn't he stop then telecom minister A Raja in his tracks? We don't know.
Why did he allow coal allotments to a firm selling garments? We don't know.
Why did he allow the tussle between Pranab Mukherjee and P Chidambaram, his most powerful ministers, to get out of hand? We don't know.
Why did he not assert his authority vis-a-vis his party? We don't know.
It is not that the media did not ask good questions. Some questions were above average or excellent and those questions gave Dr Singh a chance to address some negative impressions. But he mostly ducked the good questions that could have been answered interestingly.
Is this nation only concerned about Modi's communal leanings?
Will Modi-bashing reduce the anti-Congress feelings due to price rise and corruption that grew under the prime minister's watch just like the 'massacre' in Ahmedabad occurred under Narendra Modi's watch?
Mr Prime Minister, how are you different from other regional politicians who use communal and caste cards when they cannot govern efficiently?
Yes, it was necessary to denounce Modi who is the Congress's most serious political opponent. But language makes a world of difference in politics.
Manmohan Singh chose the most apt words to describe his feelings for Narendra Modi, but used stale language to speak about price rise and corruption.
He opted out of the race for prime minister post the 2014 general election, but he kept his party guessing if he would retire or not after May 20 when his tenure ends.
It seems Dr Singh may not retire to give lectures or read books. He has either not made up his mind or it seems more likely that he will stay on in politics as an active player in the Rajya Sabha and the Congress.
Dr Singh was not at all meek when he took credit for running a coalition government. People, he said, used to think that the Congress could not run coalition governments, but he had run one successfully for ten years. For every inconvenient question, he repeated that he had run the government sincerely.
After the event, most journalists felt Dr Singh had been aggressive and got away, but nobody was more enlightened on any issue of governance confronting this complex country after hearing him for 75 minutes.