'When I look at the faces of people around me, they have a certain energy, as if unemployment, food scarcity and infrastructural breakdown are small sacrifices for our agitation for Gorkhaland,' a Gorkha based in Delhi tells Geetanjali Krishna.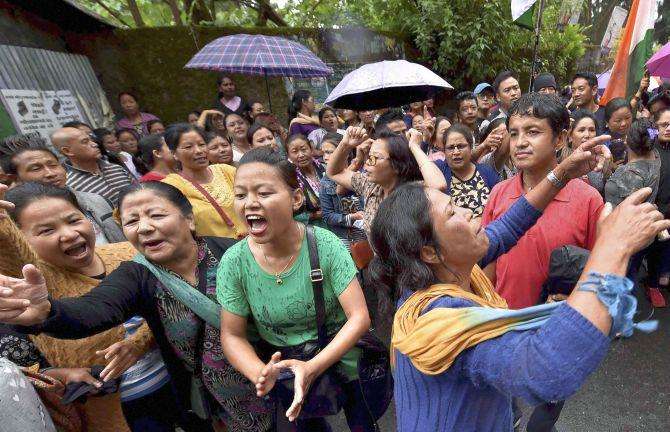 He is the unknown soldier who patrols Indian borders.
He painstakingly plucks the tea we drink, two leaves and a bud at a time.
His is a stoic mountain dweller who can lift any load and climb the steepest mountain.
Yet, the Gorkha is more than the sum of these stereotypes.
Recently, Rajeema Khati, a resident of Mirik near Darjeeling, narrated to me the situation on the ground at the epicentre of the Gorkhaland agitation.
"It's been 60 days since most of the people earned their last rupee; 60 days since our children went to school or college," she said.
"Most of us haven't eaten any vegetable or fruit this entire time, let alone meat or chicken."
Internet services have been off since June 18 and trucks ferrying goods have been forced to halt at Siliguri.
Many lives have been lost in the fight for Gorkhaland since the agitation began in June.
"Yet, when I look at the faces of people around me, they have a certain energy," Khati said, "as if unemployment, food scarcity and infrastructural breakdown are small sacrifices for our agitation for Gorkhaland."
The feelings of resentment between mountain folk and the Bengalis have been slow boiling for a long time now.
Culturally, ethnically and linguistically different, the Gorkhas, originally from Nepal, allege facing discrimination at several levels even as Darjeeling, their home, has always been West Bengal's biggest cash cow.
With only a few job and education opportunities available locally, many from Darjeeling, Mirik and Kurseong are forced to migrate, as Khati did, almost a decade ago.
"But our features set us apart from Bengalis and we speak Nepali, not Bengali," she said.
Discrimination is almost inevitable. "People prefer to employ non-Gorkhas in Siliguri," she said. "So much so that after this agitation began, even rickshaw pullers in the plains refused to carry Gurkhas, saying they were not Indians but Nepali."
Consequently, Gorkhas are a backward lot today.
"I have not heard of a single Gorkha doctor, IAS officer or MBA," said Khati.
Which is why, she and most of her neighbours believe that the creation of Gorkhaland would finally give them a home, a place where their unique set of developmental problems could be addressed.
However, the discourse on Gorkhaland is more about identity than it is about development.
After Independence, India and Nepal entered into the 1950 Treaty of Peace and Friendship, which accorded a reciprocal citizenship to the Gorkhas in India.
Over the years, this ambiguity in their status has been an obstacle to their integration into the national arena.
"Time and again in the past, our leaders ended up choosing politics over our quest for identity," Khati said. "But this time is different. Our agitation is a people's movement, not linked necessarily to any political party."
Earlier this month, Khati, her husband and teenage son somehow managed to sneak past the barricades and reach the railway station at New Jalpaiguri. Both stood to lose lucrative jobs in Delhi if they'd stayed any longer, and the standoff looked like it would be indefinite.
Also, they were worried for the safety of their son whose college in Mirik had been indefinitely shut down since June.
"We had no option but to come away from there," she said. "But our hearts still belong there."
Now, the couple plans to collect funds from all their Gorkha brethren in Delhi to send back home.
Even as the Gorkhaland Movement Coordination Committee has declared that the agitation will continue indefinitely, Khati feels confident that Gorkhaland will eventually be formed.
"We've been asking for our own state for a hundred years," she said. "Hopefully, someone will listen to us this time."
IMAGE: Gorkha Janmukti Morcha activists protest during a bandh in Darjeeling. Photograph: Ashok Bhaumik/PTI Photo