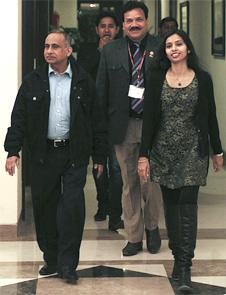 'While the Khobragade affair has "upset and diverted attention, it does not mean there is a fundamental flaw in the US-India relationship",' former American envoy Frank Wisner tells Rediff.com's Aziz Haniffa.
The recent arrest and indictment in New York of Indian diplomat Devyani Khobragade, while exposing lingering fault lines in ties between Delhi and Washington, DC, will not cripple the US-India strategic relationship nurtured over the past two decades, former US ambassador to India Frank G Wisner has predicted.
Wisner told Rediff.com that it was imperative that diplomats seeking to heal this gaping rupture in the relationship and alleviate the extent of the fallout will have to be given political cover to resurrect the strategic partnership as expeditiously as possible,
During an interaction that followed a briefing he provided to Asia Society members and the media in a teleconference, Wisner said, "I admit to the point you've made that the waters were really roiled by this affair -- that many, many sentiments were hurt in India by the way Mrs Khobragade was handled."
When it was pointed out that the resolution of this fallout may still be at an impasse since India insists that the charges against Dr Khobragade have to be dropped while the State Department and US Attorney Preet Bharara's office in New York have said that is not going to happen, Wisner acknowledged, "It is classically a time for our diplomats to set their heads together and they need political cover."
Wisner -- whose foreign service career spanned four decades and eight American Presidents, and besides serving as ambassador to India, also served as US envoy to Egypt, the Philippines, and Zambia, and was also Under Secretary of Defense for Policy and Under Secretary of State for International Security Affairs -- argued, "The door is now open for the two sides to put real experts together and address maybe even the deeper problems so we avoid this kind of issue in the future."
This, Wisner said, included "the reciprocity of privileges and immunities on both sides."
"That," he reiterated, "is classically a job for diplomats -- and India has a very skilled diplomatic service and we've got perfectly able people in Washington."
"The matter is now for us to set our heads together and get this thing settled," he said, and predicted that he believed "it's going to be off the radar screen and in a manageable place in the days and weeks ahead."
Wisner described Dr Khobragade's arrest, strip and cavity search as a "deeply, deeply regrettable event" and that as it unfolded, it showed "the quite different cultural perspectives that came into play, producing very different reactions and understandings and perceptions on both sides."
While the Khobragade affair has "upset and diverted attention," he argued, "it does not mean there is a fundamental flaw in the US-India relationship."
"An even more subtle matter both of us recognise," Wisner said, "is that the rise of Chinese power is a matter of interest and importance to the two sides and that we have to think together to manage that rise so that it does not wrong-foot the peace and progress in Asia."
He said he could not even "begin to emphasise enough how really consequential" the US-India strategic ties are and hence "there is no rolling back."
"But at the same time, we have to be honest with each other -- a lot of things have gone wrong," he added and cited that besides the problems the business community is beset by in India, a big disappointment was the US-India nuclear deal still in limbo.
Wisner bemoaned that "the nuclear liability issue has dragged the first steps of the very promising civil nuclear agreement so that there has literally been no development on Indian and American nuclear cooperation in the years since 2005."
"We are coming to a powerful period in the transition in the relationship between our two countries," Wisner declared, "and it is defined by our interests, the issues we face, but not defined by the Khobragade affair."
"The Khobragade affair," Wisner argued, "brings us back to the realisation that you don't just let matters drift -- you got to attend to them and that is the job before us today."
Image: Dr Devyani Khobragade with her father, retired IAS officer Uttam Khobragade, in New Delhi soon after arrival in India, January 10, 2014. Photograph: Reuters