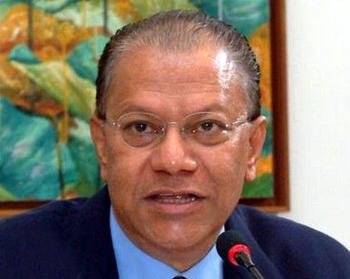 Wajitpura village in Bihar's Patna district is gearing up to welcome a special visitor.
The mehman (guest) is the rashtrapati (president) of a country once known as mirich desh by residents of rural Bihar and Uttar Pradesh many decades ago.
Mauritius President Rajkeswur Purryag is scheduled to visit Wajitpura village in Punpun block of Patna district over the weekend. Over a hundred years ago, his great grandfather had left this village for the distant shores of Mauritius.
President Purryag arrived in New Delhi on Thursday for a week-long state visit. He has been invited to be the chief guest at the Pravasi Bharatiya Divas that will be held in Kochi from January 7 to January 9.
He will call on President Pranab Mukherjee and also hold talks with Prime Minister Manmohan Singh on Friday.
Purray will also make a stop at Wajitpura village where he will meet distant relatives. The Mauritian leader's ancestors were among the thousands of indentured workers who were taken to work on sugarcane plantations in the British colonies.
Bihar Chief Minister Nitish Kumar had taken a personal interest in locating the Mauritian President's ancestral village. Purryag had asked for the CM's help in locating his roots in India when the latter had visited Mauritius.
After state government officials identified Wajitpura as Purryag's ancestral village on the basis of information received from the Mauritius President's office, Kumar personally visited Wijayatpur. He inspected the local school and primary health centre and also met two villagers -- Ganesh Mahto and Mahesh Mahato -- who have been identified as Purryag's relatives according to their family tree.
The road from Patna to Wajitpura village has been spruced up for the visiting dignitary.
Purryag succeeded Sir Anerood Jugnauth in July 2012 when the latter resigned as President after nine years in the position. Purryag had earlier served as the speaker of the Mauritius Assembly. 
On November 2, Purryag was chief guest at the anniversary celebrations of the arrival of Indian indentured workers in Mauritius. Most Mauritians of Indian origin deeply value their links with India and Indian Arrival Day is commemorated every year.
A replica of an indentured workers' village of the 1860s was installed for the occasion by the Aapravasi Ghat Trust and the ministry of arts and culture. The Aapravasi Ghat, designated a World Heritage site, is the place where indentured workers landed in Mauritius between 1834 and 1920.
The Mahatma Gandhi Institute in Mauritius holds the archival records about the arrival of Indian indentured workers. Hundreds of Mauritians of Indian origin have located information about their ancestors from the easily accessible database.
But most of them have found it difficult to locate their ancestral villages in India as district names in India have changed and there are a number of villages with similar names. The Bihar government has plans of setting up an information centre with a databank of details of people from Bihar -- who migrated as indentured workers in the 18th and early 19th century -- that would help people of Indian origin to locate the homes of their ancestors. 
Another Mauritian leader -- Prime Minister Navin Ramgoolam – had also sought assistance in identifying his ancestor's village. Ramgoolam was able to visit his ancestral village Harigaon in Gaya district during a visit to India in 2008.
After an emotional visit to his ancestral village, Ramgoolam had unveiled a bronze statue of his father, Sir Seewoosagur Ramgoolam, who was a freedom fighter and the first prime minister of Mauritius, at Patna's Gandhi Maidan.
Hailing him as an illustrious son of Bihar, the state government has decided to mark the birthday of Sir Seewsagar Ramgoolam, who was the prime minister of Mauritius between 1962 and 1982.
Ramgoolam's visit to Harigaon had sparked off a greater interest among the people of Mauritius to try to search for their ancestral roots.