One police officer's initiative has led to reuniting 92 people with their families, and bringing closure to the families of 148 other missing persons.
A Ganesh Nadar reports.
Illustration: Dominic Xavier/Rediff.com
All it took was one phone call to make a difference.
To turn a State Crime Records Bureau into a help unit for mentally ill people who have wandered away from their homes.
It all started when Seema Agarwal, the additional director general of police, Tamil Nadu State Crime Records Bureau, got a call from Uttarakhand about a mentally disturbed woman. She was found living on the streets and said she was from Tamil Nadu's Vellore district.
The IPS officer, who has served in the police department for 27 years, swung into action.
She called up her colleagues in Vellore and asked them to trace the woman's family.
"It had been 12 years since she had gone missing, so it was not easy to find them. The happiness on their faces when they met each other was our reward," she smiles.
Agarwal recalls another case where a lady from Maharashtra was rescued in Tamil Nadu and reunited with her family.
The lady wept, her family wept. Agarwal too had tears in her eyes.
Her department has been successful in reuniting 92 people in the last 12 months; that is almost two reunions a week.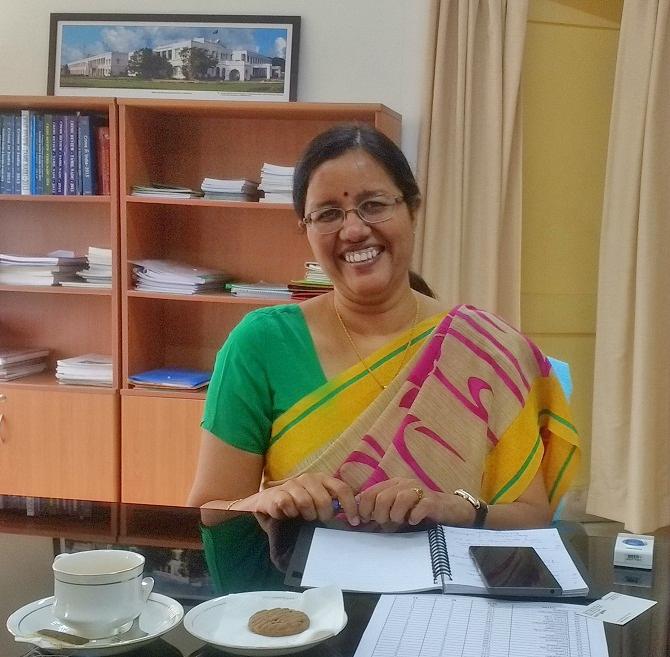 IMAGE: Seema Agarwal's department has been successful in reuniting 92 people in the last 12 months; that is almost two reunions a week. Photograph: A Ganesh Nadar/Rediff.com
"We not only reunite families, but also make sure it is a happy reunion. For example, if a woman disappears for two decades and her husband has remarried, reuniting her with her family is difficult. We make sure the family wants them back. We don't want them to be on the streets again," Agarwal says.
If the family does not want them back, or they have no family to go back to, they are looked after in a government home.
The SCRB's responsibility is to upload the details of a person reported missing or found on the streets on its Web site.
What it is doing at the moment is beyond the call of duty.
SCRB staff work with over 40 government-approved NGOs who rescue mentally disturbed people from the streets.
"They find them and give us the details, which we put up on our Web site. We also send our people to talk to them and see if we can get additional details. Sometimes, we are successful; sometimes we are not. Some regain their memories after months and are able to share details," says Agarwal who has given Inspector A S Tahira the responsibility of reuniting them with their families.
"If a woman is found in Chennai or in the Kancheepuram district (located on Tamil Nadu's north east coast), I try to go personally and talk to her. If I am busy with another case, I send one of my juniors. If a woman is found in other parts of Tamil Nadu, I depute my people from that district," says Tahira.
The fact that she knows Hindi is an advantage when she has to speak to north Indians.
"We have worked with the regular police and even taken the help of the revenue department and the district collector to trace families," Tahira adds.
Getting the women to talk is not easy.
Sometimes, they are intimidated by the environment. Sometimes, they are just scared.
At times, they are violent.
"I have seen them assault NGO workers who bear it stoically. Dealing with one mentally disturbed person in the family is difficult, so imagine dealing many of them. I salute the NGO workers," Tahira says.
The SCRB works only with registered NGOs.
"We know there are homes that are unregistered and house these people, but we leave that out of our ambit," the inspector says.
The SCRB, Tahira adds, have also been successful in matching missing persons with unidentified dead bodies.
"We have helped close 148 such cases. People need closure to get on with their lives."