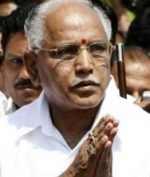 Former Karnataka chief minister B S Yeddyurappa struck an emotional chord with his supporters on Friday as he was all set to quit the Bharatiya Janata Party and sever his 40-year-old ties with it.
A teary-eyed Yeddyurappa told the media gathered outside his residence in Bangalore that it was the saddest day of his life to quit a party he had built in the first place.
Yeddyurappa, who has complained of betrayal by the BJP leadership, said at his Dollar's Colony residence on Friday morning, "I am sad, but some things had to be done. I have been made to feel unwanted in my own party."
Yeddyurappa will address a gathering at the Freedom Park in Bangalore at 10.30 am, following which he will lead a rally to the Vidhan Soudha where he will tender his resignation to the Speaker of the House.
Yeddyurappa has been surrounded by his loyalists and has also been visiting temples in his trademark style before he heads out to address the rally. The former CM also said that he has asked all MLA's of the BJP to stay away from the rally.
"I have no intention of pulling down the government and (Karnataka CM)
Jagadish Shettar must complete his term," he added.
Yeddyurappa holds closed-door meet with loyalists

Yeddyurappa held a closed door meeting with his loyalists at his residence. Shobha Karandlage, Basavaraj Bommai, Umesh Katti, C M Udasi, B Harish, Basavaraj Bommai, B Y Raghavendra among others, were part of the meet.
The meeting was held to chalk out the future course of action. The MLAs and ministers in the BJP government present at the meet expressed their desire to join him at the rally.
However, Yeddyurappa remained firm and said that none should join him. "Let the BJP government complete its term. If you join me the party will suspend you and the government will fall," he told them.
This is the last meeting that Yeddyurappa held as a BJP member. Sources say that the meet was an emotional one where Yeddyurappa's supporters thanked him profusely for his contribution to the party.  
Meanwhile, large crowds gathered outside his residence and there was a rise in his Muslim supporters. All the supporters marched with Yeddyurappa to Freedom Park.