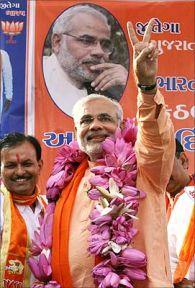 As Bharatiya Janata Party struggles to get its act together in Delhi, its prime ministerial candidate Narendra Modi has decided to campaign for only a day in the city, apparently wary of being held responsible in case the party performs poorly in the assembly election.
BJP Vice President Mukhtar Abbas Naqvi told reporters that Modi will campaign for four days in Madhya Pradesh, three days in Rajasthan and two days in Chhattisgarh but spend only a day in Delhi.
Modi is giving a complete miss to Mizoram where the party has virtually no stakes.
He may address a couple of rallies in Delhi on November 30.
Till now Modi has kept himself aloof from the turmoil in the Delhi unit of the BJP where infighting has virtually destabilised the party's campaign.
This has led the party to change its plans of not announcing a chief ministerial candidate with the top brass, including Modi, now favouring Harshavardhan's name for the post to salvage the situation.
But BJP leaders concede that the party's prospects are not good in Delhi as they do not have a leader to match Chief Minister Sheila Dikshit.
Arvind Kejriwal's Aam Admi Party (AAP) is also likely to cut into BJP votes as the anti-incumbency votes against the Congress- which would have come to the BJP kitty- will now get divided.
There is strong resentment in the BJP unit against state chief Vijay Goel as he had sidelined all the other senior leaders and tried to project himself as the de-facto CM candidate. Feeling slighted, many of them have taken their complaint to the top brass, sources said.
Though Modi addressed a huge rally at JapanesePark on September 29, where he attacked Dikshit for being a ribbon-cutting CM, he concentrated more on attacking Prime Minister Manmohan Singh.
The sources said Modi does not wish to take the blame for any poor showing at the hustings in Delhi soon after being appointed the PM candidate.