New figures reveal that 54 per cent of the cow-related violence were from states governed by the Bharatiya Janata Party.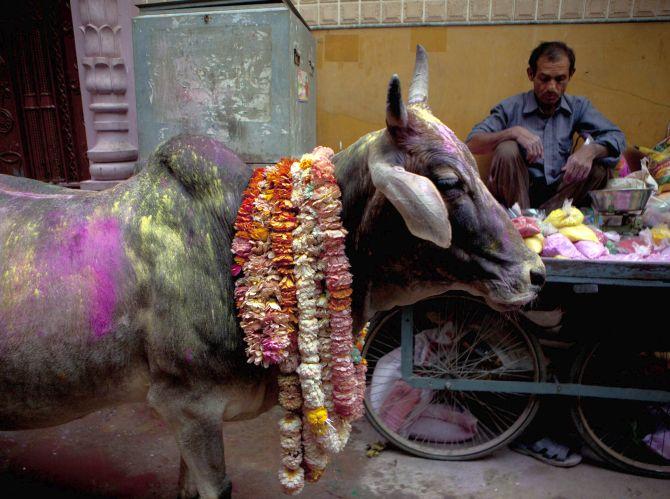 Mohammad Akhlaq, Mohammad Ayub, Pehlu Khan.
The three names are among the many others in the nation who have become victims of cow-related violence. New data collected by IndiaSpend shows that there have been 26 incidents of cow-related violence in 118 days since 55-year-old Pehlu Khan died after a mob attack on April 1, 2017.
The data, created through a collection and content analysis of reports in the English media, reveals that there have been 70 cases of cow-related violence over eight years.
The database shows 97 per cent (68 of 70) of such incidents were reported after Prime Minister Narendra Modi's government came to power in May 2014.
More than half or 54 per cent of the cow-related violence -- 38 of 70 cases -- were from states governed by the Bharatiya Janata Party, when the attacks were reported, revealed the analysis.
Muslims were the target of 51 per cent of violence centred on bovine issues over nearly eight years (2010 to 2017) and comprised 86 per cent of 28 Indians killed in 63 incidents.
The IndiaSpend data also shows that in the first six months of 2017, 26 cow-terror attacks were reported -- more than 75 per cent of the 2016 figure, which was the worst year for such violence since 2010.
The collected data shows that the states in the north, especially Uttar Pradesh (10) and Haryana (9), top the list, though as many as six such cases were reported from Karnataka of the 13 that were traced to the eastern and southern states.
What is even more shocking is that in about 5 per cent of the attacks, there was no mention of the culprits being arrested, though police registered cases in 21 per cent, or 13, instances.
In 23 cases, the attackers were mobs comprising people from various Hindu outfits, such as the Vishwa Hindu Parishad, Bajrang Dal and local gau raksha committees.
About 52 per cent of the incidents were caused by rumours and false intimidation.
The attacks continue despite Prime Minister Narendra Modi's recent speech against violence perpetrated in the name of cow protection.
On June 29 of this year, on the centenary of the Mahatma Gandhi's Sabarmati ashram, PM Modi said, "Killing people in the name of 'gau bhakti' is not acceptable. This is not something Mahatma Gandhi would have approved."
Earlier in August 2016 too, the prime minister had denounced cow vigilantes, some of whom had flogged Dalits in his home state Gujarat. In his public denouncement, Modi had then said he felt enraged at such 'anti-social elements' who indulged in crimes by the night and masqueraded as cow protectors by the day.
Image used for representational purposes. Photograph: Getty Images