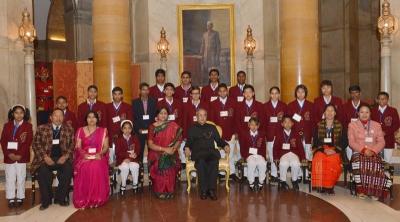 Twenty children, recipients of National Bravery Award 2013, and parents and guardians of five children who were given the award posthumously were on Wednesday felicitated by Women and Child Development Minister Krishna Tirath.
"Children are the future of the country and the recipients of the bravery award have demonstrated exemplary courage," she said and added that these children come from remote, rural and hilly areas of the country where life is not easy.
One of the recipients of the award is eight-and-half-year-old Mahika Gupta from Delhi who saved her younger brother in Kedarnath Valley during the torrential rains which triggered floods in June last year.
She had gone with her family and relatives to offer prayers at the Kedarnath temple.
On an evening, when she was in the hotel room along with her younger brother, floodwaters hit the structure.
The lights went out and the room was filled with water and debris. Mahika saw her four-year-old younger brother being swept away in the floodwaters.
Acting fast, she pulled her brother out and then they stayed in the room clinging on to a window rod before finally managing to get out.
Mahika has been given Bharat Award for displaying exemplary valour and sense of duty in saving her brother's life. Among the five who were awarded posthumously is Mausmi
Kashyap from Uttar Pradesh. Mausmi was 10 years old when she sacrificed her life while trying to save a friend.
On May 1 last year, Mausumi had gone near GomatiRiver with two of her friends. One of the friends fell into the waters.
As she struggled in the river crying for help, Mausumi jumped in and held her friend tightly by a dupatta. She tried to pull her friend to safety, but unfortunately both of them drowned.
She was awarded Bapu Gaidhani Award. The other posthumous recipients of the award this year are Aryan Raj Shukla, 14, from UP, M Khayngthei, 12, from Manipur, Malsawmtluangi, 12, from Mizoram and L Manio Chachei, 17, from Nagaland.
Image: President Pranab Mukherjee with the winners of the National Bravery Awards-2013, at Rashtrapati Bhavan, in New Delhi.
Image courtesy: PIB