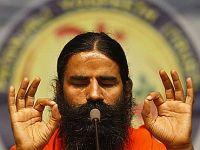 A political alternative would be presented to the people of the country within two months to enable a change which serves the interests of the common man, yoga guru Baba Ramdev said on Wednesday.
"We will bring about a change in the polity by creating an alternative for the people within two months," Ramdev told mediapersons in Chandigarh.
"I promise the people (about bringing) a political power in Parliament... We need at least 300 MPs to remove social and economic injustice and put the country on the path of development," Ramdev said, adding, however, that he was interested neither in joining politics nor in pursuing any political office.
Welcoming the Himachal Pradesh high court directive ordering status quo on his Patanjali Yogpeeth's land at Solan, Ramdev said that all relevant records would be placed in the court.
"It is public land... There are lakhs of people around the world who are eager to give land to my trusts," he claimed.
The high court on Wednesday directed the state government to maintain status quo in respect of the land leased to Patanjali Yogpeeth after revenue officials took possession of it on February 22 over alleged violations.