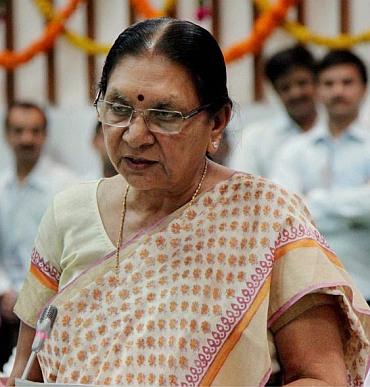 Gujarat Chief Minister Anandiben Patel on Sunday announced that her government will make the state slum-free in the next five years and is also aiming to provide pucca houses to the needy. "The state government is making efforts and is aiming to make Gujarat a slum-free state in next five years," Patel said.
The Gujarat CM added, "The government of Gujarat has given improved basic amenities and now our government is aiming to provide quality education to the under-privileged children and pucca houses to needy people," the Chief Minister said.
Patel inaugurated an automatic kitchen wherein food would be cooked under the mid-day meal scheme for 35,000 children from 81 schools of the city. She said her government was making efforts to set up similar type of kitchens in every district and city to keep the children healthy.
Later, she announced names of beneficiaries under the Mukhya Mantri Gruh Yojna through computerised draw system. Similar programmes were held at Ahmedabad, Vadodara and Surat.
Patel said the number of universities in Gujarat has crossed over 50 from mere 10 before 2001. "We have brought various courses in universities and set up special universities for children, forensic science and petroleum to educate our youth to compete globally," she said.
Underlining a need to work in the field of education, animal husbandry and agriculture, Patel said the progress of Gujarat depends on these three sectors. She also thanked Prime Minister Narendra Modi for giving permission to install gates at Sardar Sarovar dam and said, "With the permission, Saurashtra and Kutch's water shortage problem would be solved."