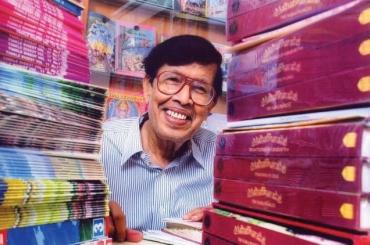 Akshata Udiaver remembers Anant Pai, the man who made history and mythology interesting for her and millions of other Indian children
They say, to write is to live forever. This holds true for Anant Pai, the visionary behind Amar Chitra Katha, who passed away on February 24, but whose legacy and spirit live on in his comics and the hearts of millions of his readers.
I consider myself lucky to have met him. In 2007, I was attending an animation festival in Bengaluru that I almost did not go to. I was pleasantly surprised to learn that the chief guest was Pai, the man who conceived, created and popularised ACK and Tinkle, and whom we all knew as Uncle Pai.
When he arrived, I was taken aback to see a man weathered with age. I had forgotten that the man we all remember as the eternally youthful 'Uncle Pai,' who illuminated our childhood with his pictures and words, was in his late 70s. But all my apprehensions vanished the moment he took to the stage and gripped the microphone.
It was as though some magic had taken over him. His energy was astounding, his enthusiasm admirable. He addressed the youngsters in the audience, switching effortlessly from English to Hindi and back, once even slipping into Kannada, as he narrated anecdote after anecdote from his journey from a small town in Karnataka to the hearts and minds of children across India. He spoke at length, doing what he was best at -- telling stories and inspiring young minds to dream, aim and achieve.
There is this oft-repeated tale of how ACK was born when Uncle Pai saw a quiz programme on television where participants well-versed with Greek and Roman mythology couldn't name Ram's mother. But Uncle Pai narrated a second incident that day, which for him was the proverbial last straw.
His nieces and nephews had once created a 'family news magazine.' It had a story about an Indian child with an English name, living in a city with an English name, who ate exotic English food and dreamt of going to London.
It dawned on him that all that kids were exposed to were books written by non-Indian authors and that their fertile imagination was being influenced by a culture that wasn't their own. He knew right then that he had to put his vast knowledge of Indian mythology and history to good use and the seeds for ACK were sown.
It wasn't an easy journey. Despite his conviction, it took a him a long time to find a publisher. Finally G L Mirchandani of India Book House recognised Uncle Pai's passion and the potential in his idea and ACK was born in 1967.
He then set up Rang Rekha Features, India's first comic and cartoon syndicate in 1969.
Finally in 1980, he launched Tinkle -- the immensely popular monthly magazine for school children, first published in English and later syndicated in as many as 20 Indian languages.
But these were not his first encounters with publishing and comics. In 1954, he had unsuccessfully tried to launch a children's magazine called Manas. Then as a junior executive at the Times of India, he was involved with the launch and marketing of Indrajal Comics. These experiences prepared him for what was to come and made him the marketing genius who took both ACK and Tinkle to their peak.
Uncle Pai always reminded me of my grandfather whose retelling of stories from mythology, folk tales and the epics predominates memories of my childhood. In his absence, Uncle Pai took on that role through his books, filling my childhood with fascinating words and pictures, igniting in my impressionable mind an undying love of books, comics and history. I never found history or mythology boring and I have two people to thank for that -- my grandfather and Uncle Pai.
So, that serendipitous meeting with Uncle Pai was a dream come true. I badly wanted his autograph, but finding no paper to take it on, I handed him my business card, requesting him to sign on the back of it.
When he saw my surname, he flashed his warm and toothy smile and started conversing with me in Konkani. He shared a funny incident about the village from which my last name was derived, telling me he had been there on many occasions! I later learned that Uncle Pai was also a linguist, who had mastered several Indian languages.
When I mentioned that my grandfather, an exponent of the Harikatha (a devotional, musical format of story-telling popular in Karnataka), heartily approved of ACK, it piqued his interest. He revealed that his initiation into the art and craft of story-telling occurred as a child in his home town in coastal Karnataka under the twin influences of the musical dance-drama Yakshagana and the Harikatha.
On discovering that I was an aspiring writer, he chided me for not sending my stories to Tinkle. "You must visit us in the ACK office. We always encourage young writers and artists to work with us," he said.
That same year, his pet project was taken over by new management, ACK Media, but he continued as the chief story-telling officer. Despite being from an older generation, he adopted modern technology with great foresight. He taught children about the past, but never shunned the future, opting instead to embrace the digital age, making stories available for the new generation online and on the mobile phone. ACK even has an iPhone app!
Uncle Pai was a stellar example of someone who follows his dreams against all odds. He was trained as a chemical engineer, but chose to pursue his passion for story-telling. Despite the initial lukewarm response to ACK, especially from schools, he did not give up, choosing instead to find innovative ways to convince them about the virtues of his comics. He conducted his own research and proved that the comics actually helped children remember history better. What followed was a success story that we are all familiar with.
Although he owes his popularity to Tinkle and ACK, Uncle Pai also wrote several books on personality development and self-improvement for children and teenagers, and produced a series of audio book versions of the ACK stories -- Storytime with Uncle Pai -- playing the role of storyteller.
There is so much to learn from Uncle Pai. He led a disciplined life, with a fixed regimen of going to bed early and waking up much before sunrise, and perhaps that is what allowed him to devote so much time to his passion.
He was immensely hard working, something that all those who worked with him will vouch for. He donned many hats -- writer, artist, editor and promoter, keeping himself occupied with creating and developing something till the very end.
Uncle Pai's humble nature and effusive personality belied his many achievements. What began as one man's mission to bring Indian mythology, history and folk tales to every Indian child is today a mini comic empire, which annually sells close to 30 lakh copies copies of 440 titles worldwide in more than 20 Indian languages, besides English.
On February 20, at the 1st Indian Comic Con, Uncle Pai was awarded, in absentia, the Lifetime Achievement Award for his contribution to Indian comics. They played a video message (now on YouTube) from his wife, as she sat by his bedside in a Mumbai hospital, where Uncle Pai was recuperating after a bad fall that left him with a fractured foot. His fans in the audience were disappointed at having lost a golden opportunity to meet him.
Little did we know that within days we would lose him forever and that the award would become a fitting farewell gift to the man who gave generations of Indians growing up in the 1970s, 1980s and 1990s a treasure trove of reading material.
We hope that the young entrepreneurs to whom he handed over his legacy preserve it well for generations to come.
Akshata designs, writes and is the founder and editor, AllAboutAnimation.com 
Image: Anant Pai