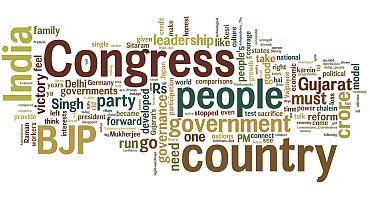 Gujarat Chief Minister Narendra Modi's 1,019-word speech at the Bharatiya Janata Party's National Executive meeting in New Delhi made quite a controversy.
Click HERE to read what he said
What were the words that Modi used the most in his speech?
The word cloud alongside gives the full break-up of the Gujarat chief minister's speech, the size of the word signifying the frequency with which it was used.
'Congress' tops the list, which is natural as the agenda of his speech was directed at how the ruling party and its coalition government had failed to deliver.
'Country' was another frequently used word, as were 'BJP,' 'People,' 'Country,' 'India,' 'government' and 'Gujarat'.
Among the least used words, surprisingly, were 'Conduct,' 'Swaraj,' 'Future,'...
Please click on the image for a larger view