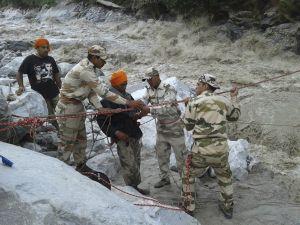 Amid hectic scramble amongst those stranded in upper reaches of rain-ravaged Uttarakhand, the Indo Tibetan Border Police personnel have won hearts with their exemplary courage and commitment, refusing to bow down in the hour of crisis.
They are up in the higher reaches battling a difficult terrain but even after more than a week, the ITBP men stand firmly against all odds.
The daunting tales of courage, conviction and loyalty of these men are now making their commanders swell with pride, as they continue to trickle down from the mountains by rescue choppers.
"No one (ITBP personnel) ever told us that they want to go down. It was just that those who grew weak and fell ill were prioritised for evacuation. We never had to care about these boys who were in no better condition than those who were stranded," ITBP Deputy Commandant A K Sachan said.
Sachan had reached in Gauchar after monitoring operations in Kedarnath and Gaurikund for nine days.
ITBP has now begun to bring down its boys from the troubled areas and is replacing them with fresh contingents.
"Things were difficult. I saw piles of bodies in Kedarnath. But I think we worked till our last. I even carried old men when I was running high fever," constable Ratnesh Boro, who was on duty for eight days at Kedarnath, said.
The troops recount how people "shouted with happiness" when they saw their rescue party at Gaurikund.
"We felt proud when people called us saviours, god and many similar terms. This made us believe that we have to take out each and every one before we go down," said Deputy Commandant R S Negi, who returned from Jangalchhati area.
The men, however, are sad by the turn of events, where 15 personnel, nine on deputation to NDRF, were killed in a chopper crash near Gaurikund recently.
"I wish it had not happened. But we have a job to do. I have told my men they have done a wonderful job, and we are making all efforts to see that those evacuated are taken care off well," force chief Ajay Chadha told PTI from New Delhi.
ITBP DIG (Dehradun sector) Amit Prasad and Commanding Officer G S Chauhan feel the tragedy, this time, has come right into their home.
"It's not that we were not affected by what was happening in the state. But when our boys see some amongst them missing, they surely feel sad and hurt," Prasad said.
Chauhan says they will do everything from ensuring quick leaves for these troops to stress counselling, so that they get cheerful very soon.
Director General Chadha said once all the ITBP men who lost their lives are identified, their bodies will be sent to their respective home towns for cremation with full honours.
The mood at the 8th battalion unit of the force has become sombre and people can be seen talking about those who have gone from amongst them.
Image: ITBP personnel rescue stranded people across a flooded river in Uttarakhand
Photograph: Reuters