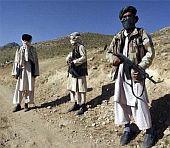 The Taliban on Tuesday claimed responsibility for the deadly October 5 suicide bombing of the UN Food Agency's office in Islamabad, which left five people dead and another six wounded.

Pakistani Taliban spokesman Azam Tariq warned of "harsh response" to any military attack on its main stronghold of South Waziristan, as Pakistani fighter jets pounded their hideouts in the area where reports said an all out offensive was imminent.

A military spokesman said six militants were killed in the bombing raids carried out on Makeen and Nawazkot areas in South Waziristan.
The attacks came amid media reports quoted to senior military officials that the military is on the brink of a ground offensive into the area, where US intelligence suspect that the bulk of Taliban, Al-Qaeda and other foreign militants are holed up, including the top leadership.
Major General Athar Abbas told a private TV channel that Pakistani Taliban leadership holed up in the area were responsible for "80 to 90 per cent of the terror activities in Pakistan. The root of terror is in South Waziristan. It is a must to root out this terror and curse and for this an operation in the area is inevitable."
Security forces have enforced a total ground blockade of the area for the past several months and massed troops and armour for an attack.
Meanwhile, Tariq the Taliban spokesman claimed responsibility for Monday's attack on the office of the World Food Programme in phone calls to several media outlets, including the BBC Urdu service.
"These institutions are not working for the public welfare and are serving the interests of the Americans," he said. The Taliban cannot leave Pakistan at the "mercy of the Americans," he said.

The bomber, who was wearing the uniform of a paramilitary trooper, struck the highly guarded WFP office after persuading security guards from a private agency to allow him to use the toilet.
The UN temporarily closed all its offices across Pakistan after the attack.

Interior Minister Rehman Malik earlier blamed the Taliban for the suicide bombing and said the militants had plans to carry out more attacks in the coming weeks. Targetted operations have already been started against the Taliban and it could be expanded to other areas if needed, he added.