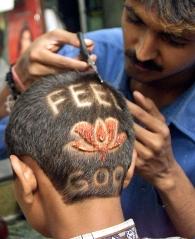 The Bharatiya Janata Party on Saturday remained non-committal about forming the government in Delhi, following Chief Minister Arvind Kejriwal's decision to step down, with the main Opposition saying that while it did not favour dissolution of the House, it was ready to face fresh polls.
"There is no overenthusiasm about forming the government. Right now, the ball is in the Lieutenant Governor's court. Let him decide, we will happily accept any situation that (unfolds)," said BJP Legislative Party leader Harsh Vardhan.
The BJP has 32 seats in the 70-member Delhi Assembly.
The Kejriwal government resigned on Friday after the Jan Lokpal Bill was blocked in the assembly by Members of Legislative Assembly from both the Congress and the BJP.
Specifically asked whether the BJP would accept an invitation by the Lieutenant Governor to form the government, Harsh Vardhan said, "We will discuss that. It is a hypothetical question. We will certainly discuss and decide with our senior leaders."
He added that there was no pressure from party MLAs about forming the government.
As to whether the party was in favour of dissolving the House, he said, "Collectively, we are in a situation where no one wants to go to elections within three months."
But he clarified that the party would not support any group of MLAs in forming the government, saying, "Delhi's governance can't be taken lightly".
Harsh Vardhan also hit out at Kejriwal, saying the AAP leader now "aspires to become the prime minister" and was "fooling the people".
"We don't have a strategy of our own. We have made it clear that we are not interested either in horse-trading or managing or manipulating numbers. I am willing to face the elections early next week as well," Harsh Vardhan said.
Referring to the Aam Aadmi Party, Harsh Vardhan alleged that it was acting as per a script written by a "corrupt" Congress to stop BJP's prime ministerial candidate Narendra Modi from coming to power at the Centre.
"The AAP government in Delhi is part of a conspiracy by the Congress, which knows it cannot fight Modi politically," he said.
Hitting out at Kejriwal, he said, "He is a specialist in telling a lie and fooling the people by using the media".
"The nation has a right to know how his party accepted donations from foreign organisations which create instability in other countries," claimed Harsh Vardhan.
Image: A follower of the BJP gets a haircut to flaunt the party's election symbol