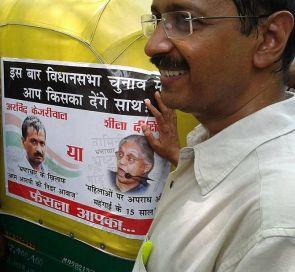 Amid speculation of Delhi facing re-election as no party has come forward to form a government, Aam Aadmi Party today said it is ready for re-poll and this time, it will be a contest between itself and BJP.
"We are ready for it (re-election). At present, we will neither take, nor extend, support to either BJP or Congress to form the government. But unlike this election, next election would be contested between BJP and AAP, as Congress has lost badly," AAP National Convener Arvind Kejriwal said.
The party will also change some of its candidates, who are considered weak, in case of re-poll, Kejriwal said.
AAP has been holding hectic parleys for the last two days about the future course of action after the Assembly elections threw up a split verdict that gave majority to none in the 70-member House.
While BJP has emerged as the single largest party having won 31 seats, its ally Shiromani Akali Dal (Badal) has bagged one constituency, leaving it four MLAs short of majority mark of 36.
AAP, on the other hand, has got 28 seats followed by Congress with eight. JD-U won one seat while the Mundka seat has gone to an Independent.
Asked about government formation, Kejriwal said as the single largest party, BJP should form the government and take support from Congress.
"BJP has been given the mandate. It is the single largest party. So, it should try and form the government taking support of Congress," he said.
The AAP leader said the similarity of party's election symbol 'broom' and 'torch', which was given to some "dummy" independent candidates in about eight to nine constituencies, was the reason they lost in those constituencies.
He said exit polls had also harmed the party, as the results came in the evening but polling continued till 9.30 pm.
"Because of this, most of these votes were polled in favour of BJP," Kejriwal said, adding that in these constituencies, AAP lost by a wafer-thin margin.
Kejriwal, who defeated three-time Delhi Chief Minister Sheila Dikshit from New Delhi constituency, admitted that his party had failed to leave an impact on rural voters.
"They had shown immense support to us during campaigning but it did not translate into votes. We were a bit disappointed by the voting pattern in villages," he said.
Asked how the party would go ahead if re-elections are held, he said AAP would campaign more vigorously.
"This time, during the month-long 'Jhadu Chalao Yatra' (roadshow), we had to cover three constituencies in a day and sometimes, due to time constraints, we had to leave some of them. But now, we will have ample time and we can cover one constituency per day and establish contact with more people," said Kejriwal, who was unanimously elected as the leader in the Delhi Assembly by the AAP legislators.
Asked about the possibility of his party going to Lok Sabha elections in 2014, the AAP leader said, "We are planning our strategy about how many seats and in which states we should contest."
He said the party's sub-committee, with AAP leaders Yogendra Yadav and Sanjay Singh, has been formed which would chart a road map for the 2014 general elections for the party.
Kejriwal, while stressing on the need to bring in more people with clean image in the party in other states, asked like-minded people to come in large numbers to strengthen the party, saying it was not possible to win general elections with the current strength.
"I would ask all like-minded people, good people, good politicians from other parties who are feeling choked in their party to revolt against them if they are against the policy of their party. If needed, they could join us," he said.