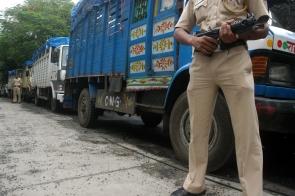 A day after the income tax department and the National Investigation Agency seized 102 bagful of cash and jewellery, it was business as usual at the offices of Angadias at Bhuleshwar, Opera House, Zaveri Bazar, near Cotton Exchange, Pophal Wadi, and Malhar Wadi in Mumbai.
When this correspondent visited some of the offices, some Angadias were seen attending phone calls for transportation of cash and other material, while others were busy verifying the incoming parcels.
However, the owners as well as employees are perturbed over media's projection of Angadias as hawala operators.
There are about 50-odd offices of Angadias situated in south Mumbai alone. The owners and employees, who did not wish to be named, claimed their business was quite legal and they were paying all the taxes including income tax, service tax, and octroi. Some alleged that the seizure of four trucks was a "publicity stunt".
Amrutbhai Patel, president of Angadia Association, who accompanied his fellow members at the income tax office to claim the cash filled up in those 102 bags, said, "We are extending necessary cooperation to the income tax department. There is nothing illegal as the receipt of every transaction is issued to the party. Similar seizure had taken place about five years ago, but nothing illegal was found out. In this case also, the Angadias, who have complied with tax demands, will get their cash back. The process is underway."
Patel said receipts are issued for each transaction.
"The commission charged by the Angadias vary from transaction to transaction. Some charge Rs 50 to deliver Rs 1 lakh, while others take Rs 100 for Rs 1 lakh,'' said Patel. He wanted to know how it was hawala transaction when the Indian rupee was transported. Had it been foreign currency being transported without any declaration, then it would become hawala operation, he added.
On the other hand, an owner of Angadia services engaged for over three decades said raw diamonds are transported to Surat, which are brought back to Mumbai after polishing and finishing.
"Angadias are the backbone of the diamond industry. Monday's action by NIA and the income tax is a temporary set back for our business, but we will effectively overcome it," he said.
According to another Angadia service owner, the entire business is run on mutual trust.
"Angadias use bus, van, and train for transportation of cash, jewellery and other material. At times, it is done under police protection, too, considering the risk involved," he said.
Some Angadias also claimed the political angle to the joint action cannot be ruled out.
"In the Angadia business, there are sympathisers of Gujarat Chief Minister Narendra Modi. The cash and valuables were about to be transported to Gujarat and that's why they were seized,'' alleged the owner of an Angadia service.
Image: The trucks seized during the raid by the Income Tax Department | Photograph: Sahil Salvi