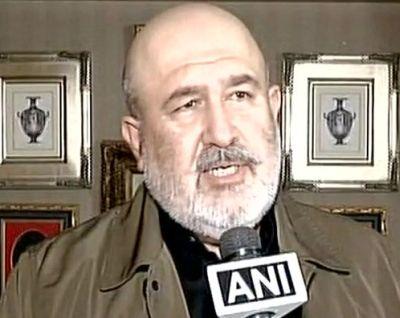 Asserting that Balochistan has always been a nation and existed before Pakistan was even formed, Khan of Kalat Amir Ahmed Suleman Daud (Baloch leader in exile) said that they are considering formation of a government in exile.
In an exclusive interview given to ANI in Geneva, Daud said that the formation of a government in exile is possible and remained positive that there is no doubt about it.
"We will talk to the Baloch people. Balochistan is a nation and there are many tribals included too. There are no differences among the Baloch people. It is a big nation and we will consult with all stakeholders, and if god wishes with talks, some day we are working for the formation an exiled government. We are thinking it. It is possible and there is no doubt about it," Daud said.
On being asked how was the exiled government going to be formed, the 35th Khan of Kalat said that its people will go around the world lobbying for the cause and with the support of its people and the day is not far where the support will be won.
He also insisted that Balochistan is a reality and the proof of its existence is with the British.
Refuting the claims that Balochistan belongs to Pakistan, Daud threw light on the history of his nation and how Islamabad annexed it with the help of its military.
"Balochistan was free for nine months and later a council meeting was initiated. Many sardars and nawabs attended the meeting, but the Khans were not present. Balochistan has upper and lower houses who rejected being part of Pakistan. Pakistan made three states and later sent their army troops. And finally on August 28, Khalat Balochistan was annexed," he said.
Maintaining that Pakistan was only formed after partition in 1947 and Balochistan existed way before it, he said that there was no history of Islamabad, adding, previously all of it were Punjab and Sindh.
He added Sindh was governed by Bombay and Punjab was a part of New Delhi.
On being asked that Pakistan is a nuclear state, with that if Baloch people can dream of Balochistan, Daud said as far as the Baloch movement is concerned, it has nothing to do with Pakistan being or not being a nuclear state.
He insisted, "Yes, they are powerful and we are weak, it is not necessary that they will always remain powerful and we will always remain weak."
Highlighting that Pakistan is almost a failed state with the current situation in the country, Daud said that Islamabad is conducting a military operation on the people of Balochistan and Federally Administered Tribal Areas out of frustration.
"Now, Pakistan is conducting operations in Balochistan. They are doing it in Sindh, Karachi and bordering areas and FATA and Punjab is only left. In FATA, if you see in the last few years, hundreds of tribals were killed and they have been named as separatists and extremists. In the same way, if you see in Balochistan there is kill and dump polity there. People are missing, houses are being burnt. Women , children and old people are being killed . what are all these?? This is their frustration," he said.
He was of the opinion that the frustration is because Baloch people are getting the support for the cause from across the world and now that the world knows that Pakistan is the breeding ground for terrorism.
On China-Pakistan Economic Corridor, he said that the faster China comes into picture the more the problem of Baloch will be highlighted because for the role of coming towards an occupied land.
He said that right from the top to the bottom of the project, China is involved in disputed territories.
He, however, insisted that Beijing comes like an occupier on its land, they would definitely resist.
"Al though China is a big country, it has no direct connection with us. But, if it coming like an occupier then we will definitely resist," he said.