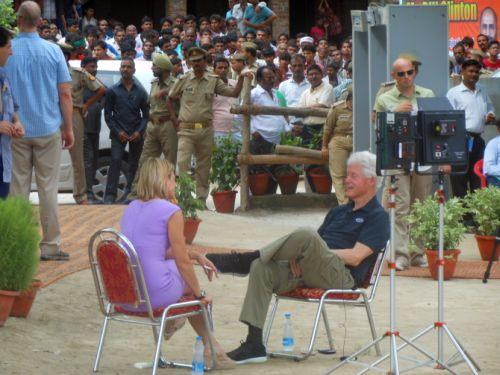 Villagers and social workers who witnessed former US President Bill Clinton's visit to a village near Lucknow felt that the perfunctory manner in which it was carried out suggests it was aimed at raising funds for the Clinton Foundation.
Clinton spent more time in private with his personal staff and with an American TV crew than the beneficiaries of the much hyped health and women empowerment schemes undertaken by the Clinton Foundation.
A multi-camera set up laid out by his own team was clearly aimed at capturing Clinton with poor children from the local village school in the background. He also made it a point to change from a mustard coloured T-shirt to a more camera savvy navy blue T-shirt before the shoot. The interviewer was none other than someone part of the former's president's entourage. The questions were designed only to project Clinton as a philanthropist, who had come all the way to fulfil his mission of saving the lives of children suffering from dehydration and diarrhoea and to promote empowerment of rural women through creation of self-help groups.
Even though he initially agreed to spare time for the Indian press corps, he chose to completely ignore them once he was through with his TV recording.
Teachers at the village school he visited also wondered if their students were made to hang around for hours only for the benefit of the TV shoot that the former US president was engaged in for most part of the day.
"Perhaps the shoot was part of a documentary which may be required to build the Clinton Foundation profile for better funding from different global funding agencies," said a former local village pradhan (head) on the condition of anonymity.
He also flayed the organisers for not caring to make any arrangement for any kind of refreshments, either for the school children or for women self-help group volunteers, who converged from far off villages and even neighbouring Rae Bareli district. "The children and women were asked to reach Jabrauli at 9 am while Clinton reached there around 1 pm. The programme continued until about 3.30 pm. So it was a long wait for the villagers on a hot and humid day," he said.
Significantly, the local organisers of the event were clueless about the success or failure of the programmes carried out under the Clinton Foundation in UP. "We have been around in 42 districts of Uttar Pradesh for the past one year." However they were neither in a position to give out the names of all the districts nor could they give details of the activities carried out by the foundation in those areas.
Clinton flew down from Jaipur around noon in a special private plane, along with his entourage. Uttar Pradesh Chief Minister Akhilesh Yadav with Health Minister Ahmad Hasan and Protocol Minister Abhishek Misra received the former US president at the Amousi airport. It took him nearly 50 minutes to drive down to Jhabrauli where he spent about two-and-a-half hours.
He drove back to Amousi airport from where he was flown straight to Hanoi in Vietnam, where the Clinton Foundation was engaged in health related programmes.
Photograph: Sandeep Pal