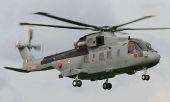 Expanding its probe, the Central Bureau of Investigation has shared crucial documents with the Enforcement Directorate showing money trail of the alleged Rs 362-crore kickback in the VVIP chopper deal with Anglo-Italian firm AgustaWestland.
The CBI, which is the lead probe agency in the case, has received some more crucial documents from Union defence ministry and Italy in connection with the Rs 3,600-crore deal.
These documents are being examined by agency officials, official sources said.
The documents, carrying details of money trail, have been shared with the ED for further scrutiny, they said.
The ED is likely to register a case on the basis of fresh set of documents received from the investigating agency.
The ED, which is already conducting a probe since last year for alleged violation of forex laws in the deal, may also register a criminal case of money laundering to probe allegations of kickbacks.
The agency has already registered a preliminary enquiry against 11 people including former IAF chief S P Tyagi, his three cousins, European middlemen and four companies.
Suspected European middlemen Carlo Garosa, Christian Michel and Guido Haschkhe, advocate Gautam Khaitan formerly associated with Aeromatrix and its CEO Praveen Bakshi, former Finmeccanica Chairman Giuseppe Orsi, former AgustaWestland CEO Bruno Spagnolini have also been named in the PE registered by the CBI.
All the suspects have refuted the allegations.
In its PE, registered to probe the alleged kickbacks in the 12 AW-101 VVIP helicopters from AgustaWestland deal, CBI is looking into the role of some middlemen suspected to have influenced the deal in favour of the Italian company.
The agency suspects that a portion of Rs 362 crore bribe was allegedly routed to Indian nationals, through Tunisia and Mauritius, camouflaged as payments for engineering contracts to Chandigarh-based IDS Infotech and Aeromatrix. Both the companies had denied involvement in the bribery scandal.
The CBI is likely to send judicial requests to UK, Italy, Mauritius and Tunisia seeking information about financial transactions carried out by accused in the deal.