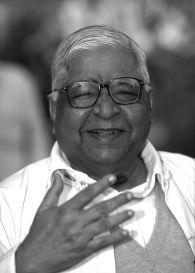 Renowned spiritual leader and Vipassana guru Satya Narayan Goenka died on Sunday night due to old age. He was 89.
Goenka breathed his last at his residence in Mumbai on Sunday night, his associate said.
The funeral would take place on Tuesday at the electric crematorium in suburban Jogeshwari.
Born on January 30, 1924, in Burma (now Myanmar) Goenka learnt Vipassana -- the meditation technique practised by Lord Buddha to attain enlightenment -- there from Sayagyi U Ba Khin, an acclaimed teacher and administrator.
He later moved to India and made the technique popular worldwide through a non-sectarian movement. Goenka is survived by his wife Elaichidevi, also a co-teacher of meditation, and six sons.
Goenka, who was last year conferred the Padma Bhushan for social work, started teaching meditation to the public in India in 1969.
In 1976, he set up the Vipassana International Academy -- also known as Dhamma Giri -- in Igatpuri, about 200km from Mumbai in Nashik district.
Residential courses of Vipassana meditation are taught at numerous centres in different countries on a regular basis.
The ancient technique was part of prison reforms carried out in Delhi's Tihar Jail in the early 1990s and it was taught to inmates there. Later, several prisons in the country introduced Vipassana for inmates.
In 1982, the principal teacher of Vipassana began to appoint assistant teachers to help him meet the growing demand for courses.
In 2000, Goenka addressed the Millennium World Peace Summit at the United Nations headquarters in New York.
Besides India, Vipassana centres under his guidance have come up in countries like the United States, Canada, Australia, New Zealand, France, the United Kingdom, Japan, Sri Lanka, Nepal, Myanmar and Thailand.