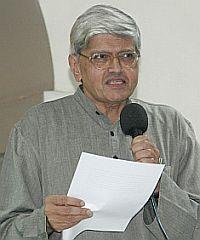 Outgoing West Bengal Governor Gopal Krishna Gandhi on Sunday called upon all political parties to stop violence as the state would suffer 'irretrievable damage' if it was not brought to an end.
"Unless all inter-party, inter-cadre or inter-supporter violence is halted, West Bengal will suffer irretrievable damage. All political organisations must together bring West Bengal out of the debris of 'bhangchur' (damaging of property), bandhs and 'bomabaji' (bombings)," Gandhi said in his farewell message on his last day in office.
Gandhi was known for his public comments on the state's law and order situation. No party should countenance the use of unauthorised arms and all provocations, in word and deed, across the political spectrum, must cease, he said.
Stating that Maoist violence was not only incompatible with, but was repugnant to political democracy, Gandhi cited the example of the African National Congress' armed wing, also known as 'MK', which was disbanded after armed action turned counter-productive and futile.
"The ANC disbanded the MK and returned to the political path, which, as we all know, resulted in the ending of apartheid, the ascent of the ANC to popular office and the miracle of reconciliation. Without a democratic mass movement, such violence can only hurt innocents and itself," he said.
Stating that a 'new chapter of ecologically intelligent and culturally-sensitive progress' was needed to be opened for the long neglected and exploited people, Gandhi urged all political parties to 'view the crisis there through non political lenses' and involve social welfare organisations and NGOs in this.
"Instead of being a problem, the Jangalmahal can and must become an example for the whole country to look up to for the development of the quality of adivasi life and social cohesiveness," he said.
On the Gorkhaland issue, Gandhi said that the tripartite talks offered the best roadmap and hoped that it would lead to a satisfactory resolution.
"I urge those fasting for Gorkhaland to give up that form of agitation because the tripartite process is now on and must proceed in an atmosphere conducive to negotiation," he said.
While the people of the state should try to enquire why the Gorkhas 'feel as they do,' the Gorkha Janamukti Morcha must also ask themselves if any public aspiration, howsoever constitutional, should be articulated by unconstitutional methods in a democracy, he said.
"Looking upon their fellow-citizens in West Bengal as brothers and sisters, they must put across their aspirations in a spirit of mutual trust and understanding," Gandhi said.
The outgoing governor hoped that Darjeeling's cosmopolitan traditions would remain unharmed.
Image: Outgoing West Bengal Governor Gopal Krishna Gandhi
Photograph: Parth Sanyal / Reuters