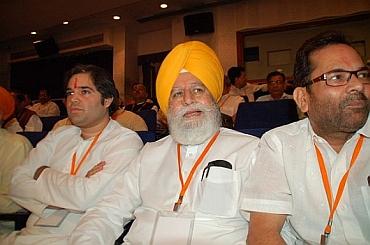 Bharatiya Janata Party Member of parliament Varun Gandhi, who was in the thick of controversy for his anti-Muslim hate speech during the 2009 Lok Sabha election, is undergoing an image makeover, or so it seems.
A beaming Varun, who is in Mumbai to attend the two-day national executive meet of the party in Mumbai beginning on Thursday, said "We are Amar, Akbar and Anthony", pointing towards himself, former Rajya Sabha MP S S Ahluwalia and BJP general secretary Mukhtar Abbas Naqvi, as photographers asked them to pose together.
Ahluwalia, fresh out of his defeat in the recently-held elections to the Rajya Sabha from Jharkhand because of party infighting in the state too seemed to be in elements as he burst out laughing.
When this correspondent asked Varun who is who among the trio, he quipped "I'm Akbar, he is Amar (Ahluwalia) and he is Anthony (Naqvi).
Varun, who is a Lok Sabha MP from Pilibhit, was slapped with a court case last year, following his diatribe against the Muslims in Pilibhit, his constituency in Utttar Pradesh.
Image: (from left) BJP MP Varun Gandhi, Rajya Sabha MP S S Ahluwalia and BJP general secretary Mukhtar Abbas Naqvi
Photograph: Prasanna D Zore