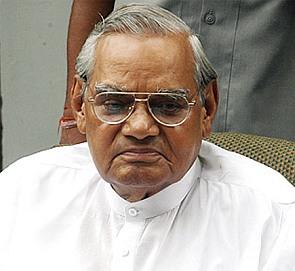 Rajkumari Kaul, who was part of former Prime Minister Atal Bihari Vajpayee's adopted family, died in New Delhi on Saturday.
Kaul, 86, died of cardiac failure at the All India Institute of Medical Sciences to which she was brought on Friday.
Kaul had been Vajpayee's constant companion of many years and the mother of his adopted daughter Namita Bhattacharya
She was cremated at the Lodhi crematorium in the evening.
Top BJP leaders, including L K Advani, Rajnath Singh, Sushma Swaraj and Arun Jaitley, were present for the cremation.

Vajpayee, who is bedridden, could not attend the last rites.
Also present at the cremation was Union minister Jyotiraditya Scindia -- the lone major Congress leader present.