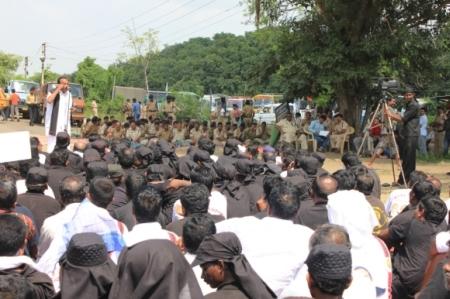 Over 1,500 workers of the Marumalarchi Dravida Munnetra Kazhagam are participating in a dharna at Chindwara, Madhya Pradesh.
MDMK party workers have travelled all the way from Tamil Nadu to protest Sri Lankan President Mahinda Rajapakse's visit to Sanchi.
Rajapaksa will be reaching Sanchi on Friday via Bhopal to lay the foundation stone for the International Sanchi Buddhist University and Indic Studies.
 
MDMK leader Minnal Mohamedali told rediff.com that party workers, including chief Vaiko, have been camping out in the open since Wednesday evening
Minnal informed that Madhya Pradesh Chief Minister Shivraj Singh Chauhan had promised Vaiko that they would be allowed to hold their protests. However, the MP government had now backtracked from that stance, he alleged, adding that the protesters have been asked to leave.
Section 144 of the Indian Penal Code, pertaining to unlawful assembly, had been put in place and the protestors will be arrested if they tried to proceed to Sanchi or Bhopal.
At the protest site in Chindwaa, Vaiko was seen cheering up his cadre even as he chided the MP CM for not keeping his word. The MDMK workers will continue their dharna in Chindwara till Rajapakse leaves.
Meanwhile, nearly half a dozen MDMK supporters were detained at Salamatpur near Sanchi as a precautionary measure, police said on Thursday.
After questioning the supporters, police sent them back to Bhopal; security has been beefed up between Bhopal and Sanchi in view of the high-profile visit.
To ensure that no Tamil protesters reached the venue, security measures have been tightened on all the entry points to Sanchi. Also, security agencies have asked railway authorities not to halt trains anywhere between Bhopal and Vidisha on September 21 to prevent the entry of those who may trigger trouble.
Meanwhile, Chouhan has again appealed to Vaiko to give up the protest as the programme was totally apolitical in nature and aimed at strengthening mutual ties between Asian nations.
Additional inputs from PTI