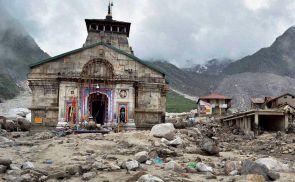 With scores of bodies getting decomposed at Kedarnath and other flood-hit areas of Uttarakhand, the state government has decided not to send these to their relatives.
Instead, the government would take DNA samples, preserve other important documents of the bodies and make arrangements for mass cremations, top officials said.
Incense material such as ghee and aromatic wood have been despatched to Kedarnath and the effort is to begin the process after the identification and DNA preservation formalities. With bodies beginning to putrefy, the air is laden with stench, giving rise to fear of an epidemic outbreak in affected areas. A 30-40 member team of police personnel, forensic experts and health officials had left for Kedarnath yesterday for the final rituals.
"Our 10-15 policemen have already landed at the Kedarnath shrine area where they are doing panchnama, fingerprinting and preserving various other important documents like photographs of the bodies," R S Meena, inspector-general of police, told Business Standard. He ruled out any autopsy operations.
Police sources said there had been incidents where stray dogs and vultures were seen eating bodies at the jungles of Rambara, worst affected by the cloudbursts that wreaked havoc on June 16 and 17. In some other areas, army officials have reported looting of ornaments and cash from the bodies.
Health secretary S Ramaswami said medical teams were being sent to Kedarnath and other areas, both for DNA sampling of the dead and with medicines to control various possible diseases.
Though the government is officially saying 560 have died, there are many reported missing persons. A government statement today said 334 persons were still missing. As a large number of bodies have not been identified, "who is missing and who is dead will remain a riddle," admitted a top government official.