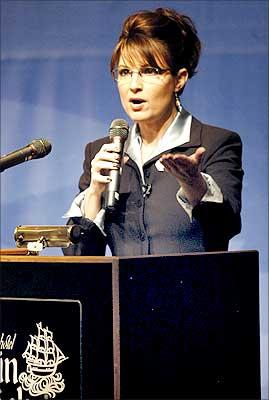 Republican White House hopeful John McCain has chosen Alaska Governor Sarah Palin as his running mate for the November four presidential polls in the US.
Quoting senior campaign sources, CNN said the soon-to-be official Presidential nominee of the Republican Party, Senator McCain, has chosen Governor Palin of Alaska as his running mate.
Forty four-year-old Palin, mother of five, is the first term Governor of Alaska, who was sworn in on the job in 2006, and is said to have strong credentials as a conservative who could immensely help Senator McCain in his road to the White House.
Aside from her physical attractiveness (she is a former beauty queen), Palin's reputation as a 'clean government, anti-corruption' candidate would be a refreshing departure from the closed doors and whispered secrets of the Bush administration.
Also, in perhaps her most crucial stance on any one issue, Palin is firmly against abortion, making her one of few mainstream female US politicians who Republicans can count in the pro-life column.
Another strong point is her high approval percentage, which has hovered at or above 80 per cent for most of her two years as governor.
 
The formal announcement will come in Dayton, Ohio soon when Governor Palin will be introduced by Senator McCain in a campaign event.
Palin, an avid sportswoman, is said to be a lifetime member of the National Rifle Association. She is a regular church-goer and pro-life.
According to analysts, the choice of Palin will help Senator McCain on many fronts, including in the Arizona Senator's brave decision to go for a woman on the ticket when his Democratic rival Barack Obama did not.

Secondly, it makes the Democrats vulnerable of attacking Governor Palin for fear of offending the woman vote.
Senator McCain has reached for Palin after many qualified candidates, including Indian American Governor of Louisiana Bobby Jindal, were supposedly considered for the top job on the ticket.
Until the very last minutes, the two candidates most talked about were former Governor of Massachusetts Mitt Romney and the present Governor of Minnesota Tim Pawlenty.
Image: Alaska Governor Sarah Palin.
Photograph: Michael Conti/AFP/Getty Images