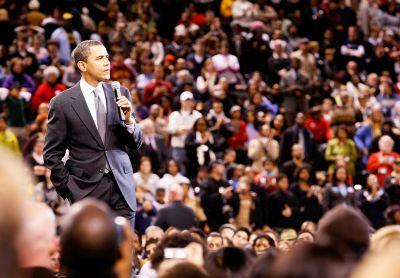 Illinois Senator Barack Obama on Wednesday scored major victories over his rival, Hillary Rodham Clinton, by winning the Democratic 'Beltway Primaries' in Virginia, Washington DC and Maryland.

Obama's successive victories over the New York senator in the race to the White House have narrowed down the gap between the two Democrats in terms of delegates.

In the Republican camp, Senator John McCain too scored victories over his rival and former Arkansas governor Mike Huckabee in Virginia, Washington DC and Maryland.

Media reports indicated that Obama cornered a lion share of the black votes in Virginia. Blacks constitute one-third of the Virginia population.
According to Washington Times, Virginia was the state in which Hillary, reeling from a staff shakeup and a series of defeats in primaries and caucuses last weekend, had hoped to perform beyond modest expectations.
At the end of the February 5 'Super Tuesday', Hillary had a slender lead over Obama. However, Obama has been chipping away at his rival's lead, scoring successive victories in the caucuses of Nebraska, Washington, Louisiana and Maine.
About 2,025 delegates are required to win the nomination at the Democratic National Convention later this year. Prior to the polls in the 'Beltway Primaries', Obama had 1,124 delegates while Hillary had 1,147 delegates supporting her.
In case of the Republicans, McCain needs to have the support of 1,191 delegates to ensure his nomination at the Republican Convention. He, surely, seems to be all set to reach that figure. As of now, McCain has 729 delegates with him as compared to 241 delegates with Huckabee.

Also Read:
Hillary, McCain have a Super Tuesday
How the Indian-American community voted
An American election in Little India!

Photograph: Mark Wilson/Getty Images